STARTING DATE:

2022•12•03

LOCATION:

Online (JST)

APPLICATIONS DUE:

2022•11•18
Background
The aim of the UNU Global Seminars is to enhance awareness about contemporary global issues and the role of the United Nations in addressing those issues. Students and young professionals are given the opportunity to interact with distinguished scholars and practitioners from Japan and abroad, and to explore a specific issue in depth through lectures and group discussions.
These sessions are open to university students, graduate students and young professionals. Lectures will be given only in English, so participants are required to have a good working knowledge of English.
38th UNU Global Seminar
Energy Sustainability in the Anthropocene —  Transforming Lifestyles for Carbon Neutrality
Saturday, 3 December 2022        13:00–17:00 JST
Sunday, 4 December 2022           13:00–17:00 JST
Saturday, 10 December 2022       10:30–17:00 JST
(Consultation Time: Wednesday, 7 December 2022, 18:30-20:30 (JST))
The Intergovernmental Panel on Climate Change (IPCC) assessment reports have affirmed that global warming is caused by anthropogenic activities. Most of the energy that drives society is fossil fuels, which cause global warming. We need to rapidly transform the current social system. In the 38th Global Seminar we will discuss how to change lifestyles, focusing on living and work.
The seminar enables participants to interact with leaders in diverse fields of expertise, raising awareness of the global challenges facing contemporary society.  Through step-by-step group work, participants will also develop the ability to respond to global issues that have multiple dimensions. Through discussions and preparing presentations using the World Café method (small-group, interchangeable dialogue), the seminar will expand the network of participating students from other universities and those who specialise in different fields.
Programme
Day 1: Saturday, 3 December 2022, 13:00 – 17:00 (JST)
Welcome address
Keynote speech 1
Seita Emori (Professor, Institute for Future Initiatives, University of Tokyo; Senior Principal Researcher, National Institute for Environmental Studies, Japan)
Concept speech
World Café and group forming
Day 2: Sunday, 4 December 2022, 13:00 – 17:00 (JST)
Keynote speech 2
Shobhakar Dhakal (Vice President for Academic Affairs, Asian Institute of Technology (AIT))
Group Work Session
Consultation day: Wednesday, 7 December 2022, 18:30-20:30 (JST)
Instructors will be available online to answer questions related to the Group Work.
Day 3: Saturday, 10 December 2022, 10:30-17:00 (JST)
Group presentation
Ceremony of certificate award
Note: Programme and lecturers are subject to change.
Flyer and Programme
The flyer and programme for this course are available to download: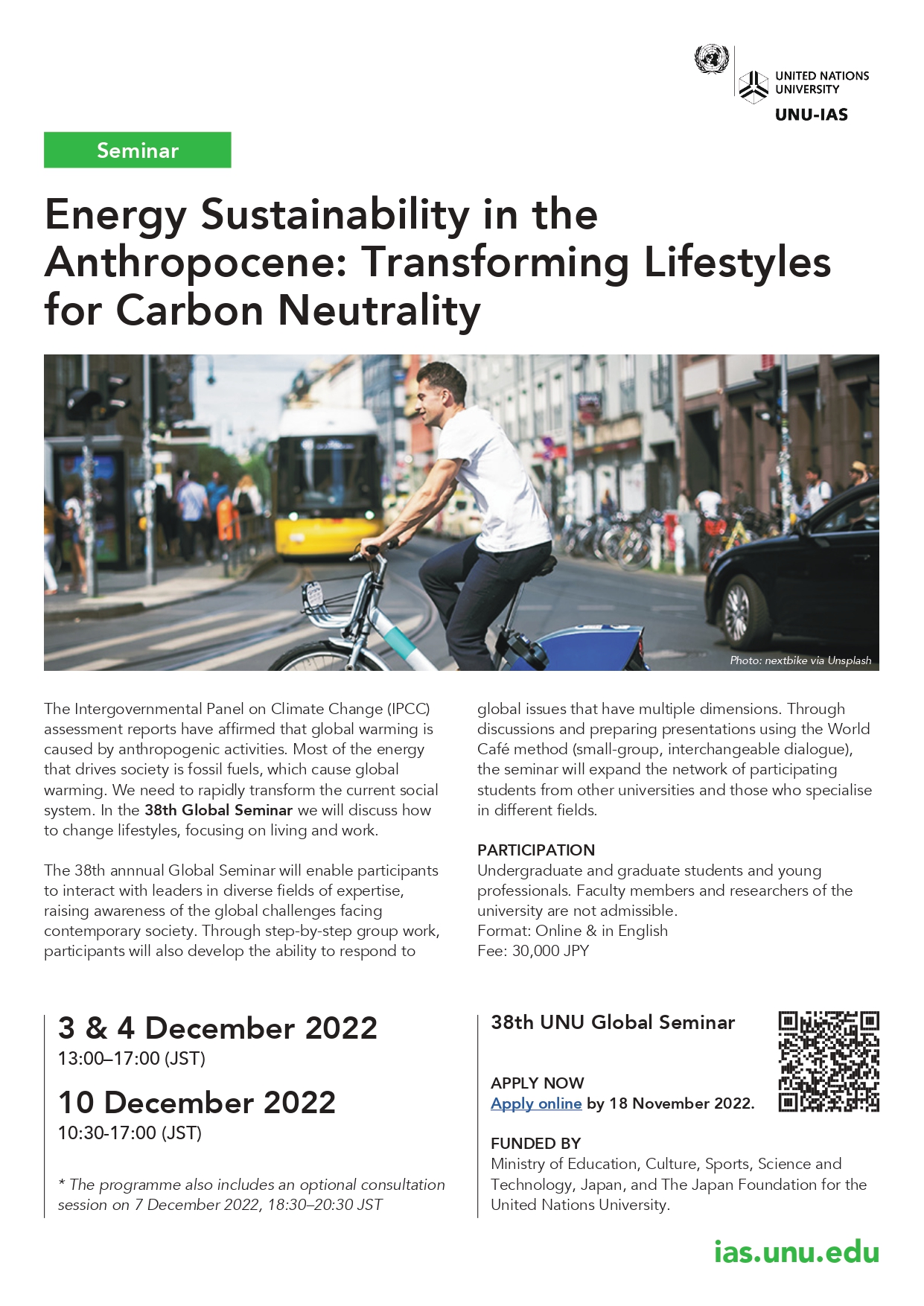 History of the UNU Global Seminars
The UNU Global Seminars began in Japan in the Kanto area in 1985 with the first Shonan Session, and in the Kansai area in 1995 with the Kobe Session. In Japan, additional UNU Global Seminars are held in Tohoku, Shimane-Yamaguchi, Hokkaido, Kobe-Awaji, Kanazawa, and Okinawa. The expansion of the UNU Global Seminars abroad began with the Seoul (South Korea) Session in 2003.