DATE / TIME:

2020•09•19 14:00 - 16:15

Location:

Online (JST)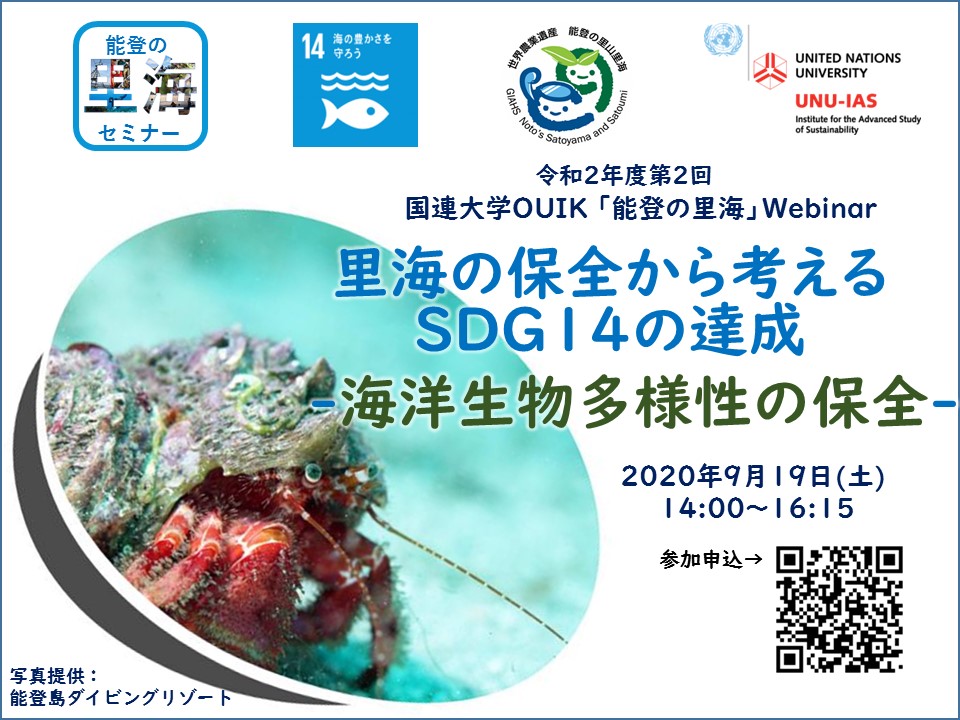 UNU-IAS Operating Unit Ishikawa/Kanazawa (OUIK) will hold an online seminar 'Noto's Satoumi Seminar'. Discussions of the second session of this seminar series will be centred around SDG 14 Life Below Water, in particular targets related to marine biodiversity conservation: Target 2 – By 2020, sustainably manage and protect marine and coastal ecosystems to avoid significant adverse impacts, including by strengthening their resilience, and take action for their restoration in order to achieve healthy and productive oceans; and Target 5 – By 2020, conserve at least 10 per cent of coastal and marine areas, consistent with national and international law and based on the best available scientific information.
Despite rigorous efforts to conserve coastal and marine ecosystems, marine and coastal biodiversity continue to be vulnerable to various human-induced socio-ecological impacts including land/sea-use change and climate change. The state of marine biodiversity conservation will be discussed, including measures such as marine protected areas and reinforcing land-sea linkages. There will also be opportunities to share ideas on what can be done to achieve this goal with biodiversity experts and a local diver from Noto area in Ishikawa prefecture.
Please note that this event will be in Japanese only, and no English translation will be provided.
For more information, please click here.