DATE / TIME:

2021•08•11 14:00 - 16:00

Location:

Online (JST)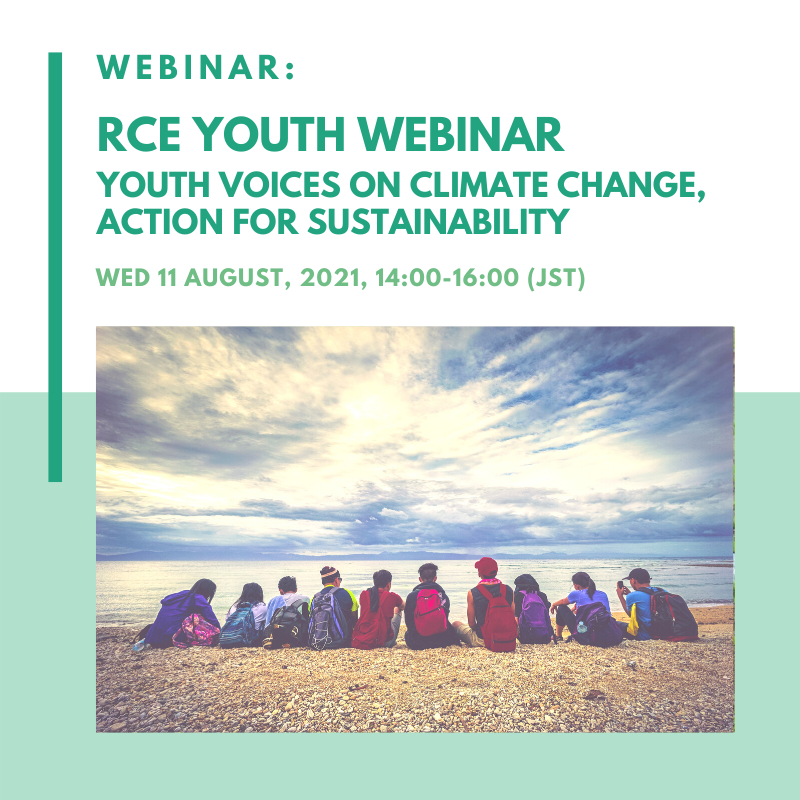 UNU-IAS, through the Global RCE Service Centre, will organise the RCE Youth Webinar 'Youth Voices on Climate Change, Action for Sustainability' will be held virtually (online) 14:00-16:00 JST on 11 August, 2021 to commemorate International Youth Day 2021.
The webinar will provide a platform for youth to dialogue on the actions needed to address the climate crisis and how efforts can be accelerated to address the climate emergency. RCE youth members will also share examples of actions for implementing ESD for 2030 towards achieving the SDGs.
Both youth and all those interested in empowering and engaging with youth are encouraged to attend.
Details
For more information, please click here.
Registration
To register, please complete the online form here.
Registration is free for all participants.
Please note the registration will be closed as soon as the number of participants reaches the limit.
Programme
The concept note and programme can be downloaded here.
Agenda
Opening remarks: Prof. Shinobu Yume Yamaguchi (Director, UNU-IAS)
Congratulatory remarks: Mr. Takeo Sugii (Director, Office of Environmental Education, General Policy Division, Ministry's Secretariat, Ministry of the Environment, Japan)
Setting the stage: 'Youth Voices on Action for Sustainability' – Ms. Brittany Hardiman (RCE Greater Western Sydney, Australia)
Presentations on youth-led climate actions:
'Let's Tackle Global Warming! Virtual Museum of Science Experience' – Ms. Akane Tanaka (RCE Okayama, Japan)
'Youths and Climate Change Advocacy in Zambia' – Ms. Buumba Miyoba (RCE Lusaka, Zambia)
'Carpentry Apprentice for Sustainability' – Ms. Laura Heiberg Pedersen (RCE Denmark, Denmark)
'Youth as Leaders in the Adoption of Sustainable Lifestyles' – Ms. Marcela Rodríguez Beltrán (RCE Bogota, Colombia)
Discussion and Wrap-up
Closing Session
Announcements:
Launch: Call for RCE Youth Submissions on Climate Actions
Global RCE Conference
Contact
Global RCE Service Centre: RCEServiceCentre@unu.edu