DATE / TIME:

2020•09•08 18:30 - 20:00

Location:

Online (JST)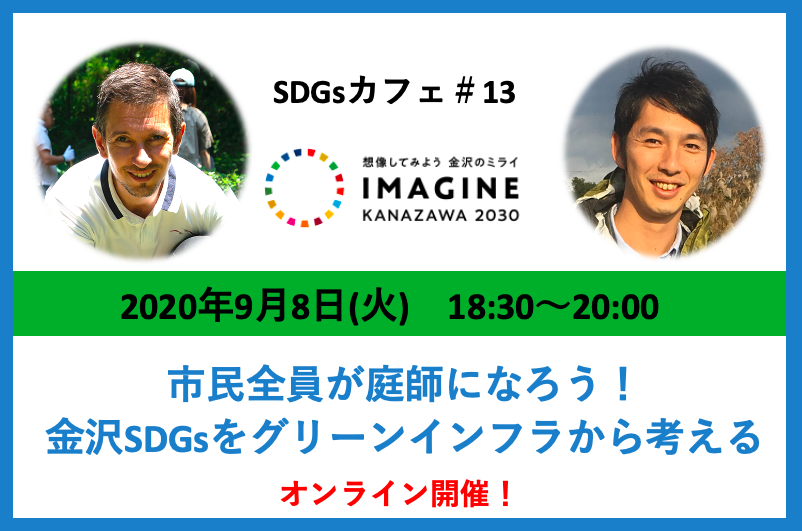 UNU-IAS Operating Unit Ishikawa/Kanazawa (OUIK) will be hosting its next SDGs Café # 13 on 8 September 2020 from 18:30 – 20:00 JST. The theme for this event is Green Infrastructure. "Green infrastructure" is a concept that seeks to enhance the added value of infrastructure by strengthening various functions of social infrastructure while reducing the economic burden on people, and by making it more comfortable for people while using natural resources and ecosystems.
In 1968, Kanazawa City, Ishikawa Prefecture, became the first in Japan to enact an ordinance for the preservation of the traditional environment, in which green areas and water canals in the city were designated for preservation, and efforts were made to preserve them as a cityscape along with Samurai residences, temples and shrines. On the other hand, the landscape and environment of the city have been changing in recent years due to the effects of the declining population and the shift to a tourist destination. What are the possibilities of using the concept of green infrastructure to address these and many other social and environmental challenges that cities are facing? Let's take this opportunity to think about it together.
The guest speakers for this seminar are Dr. Juan Pastor Ivars (UNU-IAS OUIK), who has been researching Japanese gardens and urban landscapes in Kanazawa and sustainable conservation of bio-cultural diversity, and Dr. Takaaki Nishida (Kyoto Sangyo University), an expert, researcher, and spokesman for green infrastructure.
The SDGs Café seminar series is part of the "IMAGINE KANAZAWA 2030" SDGs implementation project that started in 2019, in collaboration with Kanazawa City, Kanazawa Junior Chamber, and local stakeholders. These seminars are a platform that provide space to communicate and provide input into the future of Kanazawa City, particularly with regard to raising awareness of local social and environmental issues. It is part of an ongoing process aimed at promoting bottom-up city development and decision making to achieve the SDGs.
Please note that this event will be in Japanese only, and no English translation will be provided.
Please click here for more information.