DATE / TIME:

2020•10•17 14:00 - 16:00

Location:

Online (JST)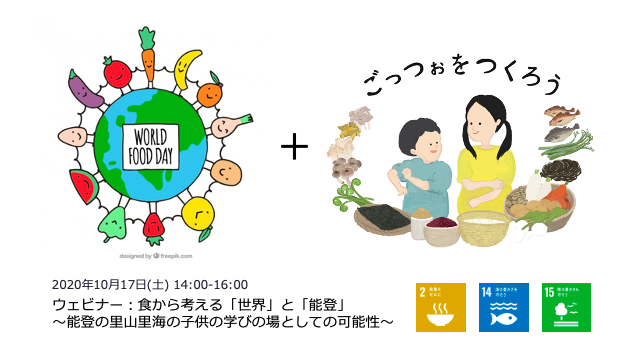 In commemoration of World Food Day on 16 October 2020, UNU-IAS Operating Unit Ishikawa/Kanazawa (OUIK) will hold a webinar to learn more about issues surrounding food on a global and local level, using the picture book "Let's Make a Harvest Feast!" on 17 October 2020 from 14:00 – 16:00 JST.
In 2018, the Noto Regional GIAHS Promotion Council and UNU-IAS OUIK created a picture book, "Let's Make a Harvest Feast!", to teach children living in the Noto GIAHS the wisdom of the traditional food culture that supports the life of Noto and the fun and wonder of nature. The book brings to life the connection between food culture, nature and agriculture in Noto region, Japan. The webinar aims to consider the connection between food and the lives of people living in "Noto's Satoyama and Satoumi" (a Globally Important Agricultural Heritage System (GIAHS) site in Ishikawa Prefecture), and its potential as a place for children's education. In order to make more people in Japan and abroad know about the Noto GIAHS, UNU-IAS OUIK has created a video version of the book in both English and Japanese, that can be used in various situations.
Please note that this event will be in Japanese only, and no English translation will be provided.
Please click here for more information.