DATE / TIME:

2021•07•06 07:30 - 09:00

Location:

Online (EDT)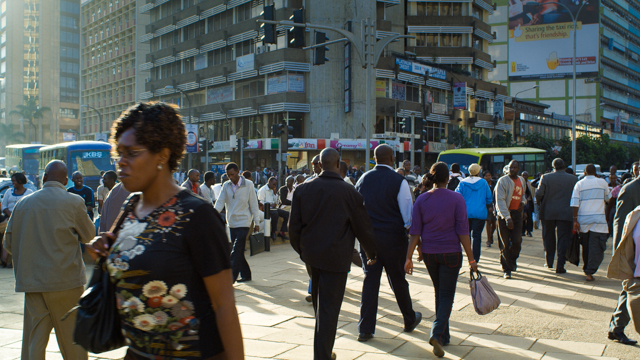 As the world faces the economic fallout and social disruption triggered by the COVID-19 pandemic, carbon neutrality has assumed greater urgency and the need to build back better is gaining increasing momentum. This online side event of the 2021 High-Level Political Forum on Sustainable Development (HLPF) will explore the policies needed to achieve carbon neutrality by 2050, and the deep transformations required in our economic and social systems. It will look at how all sectors of society can address the challenges involved in realising such critical changes during the Decade of Action to deliver on the Sustainable Development Goals (SDGs).
Bringing together experts from academia, governments, the UN system, business, and civil society, the event will focus on the green recovery process and issues of equity, considering problems such as stranded assets and implications for fossil-fuel rich economies in the developing world. It will launch a new report by UNU-INRA, which argues for an African green deal as a framework for climate action, building forward better and enabling an effective recovery from COVID-19 and its impacts. The event will also highlight the role of regional and multilateral cooperation in achieving decarbonisation, and the unique opportunity that COVID-19 presents for reimagining a common and shared future.
A panel discussion will tackle the following questions:
How is equity in the context of transformation interpreted and understood by different stakeholders (businesses, politicians, scientists, global South and global North)?
Is a just transformation possible at all? If so, what are the preconditions for such a transformation?
Participation
This online event will be held on Tuesday, 6 July at 07:30–09:00 EDT (20:30–22:00 JST). Participation is open to the public, with advance registration required.
The event will be held in English and Japanese, with simultaneous translation provided.
Programme
07:30–07:35
Opening
07:35-07:40
Video Message

H.E. Mr. Hiroyoshi Sasagawa (State Minister of the Environment, Japan)

07:40–07:55
Keynote Speech

Prof. Yukari Takamura (Professor, Institute of Future Initiatives, University of Tokyo)

07:55–08:55
Panel Discussion
Moderator: Dr. Xiaomeng Shen (Vice-Rector in Europe, UNU and Director, UNU-EHS)

Dr. Minoru Takada (Team Leader, Sustainable Energy, UN DESA)
Dr. Youssef Nassef (Director, Adaptation Division, UNFCCC Secretariat)
Dr. Fatima Denton (Director, UNU-INRA)
H.E. Dr. Jean-Paul Adam (Director for Technology, Climate Change, and Natural Resources Management, UN ECA)
Mr. Hiroyuki Tezuka (Chair, Working Group on Global Environment Strategy, Committee on Environment & Safety, Keidanren)
Ms. Mailes Zulu Muke (CEO, Save Environment and People Agency)

Q&A

Summary by Panel Moderator

08:55–09:00
Concluding Remarks
All times EDT
Organisers
This side event is organised by UNU-IAS, the UNU Institute for Natural Resources in Africa (UNU-INRA), the UNU Institute for Environment and Human Security (UNU-EHS), UN Department of Social and Economic Affairs (UN DESA), the UN Economic Commission for Africa (UN ECA), and the UN Framework Convention on Climate Change secretariat (UNFCCC).
Flyers
Flyers for this event are available to download: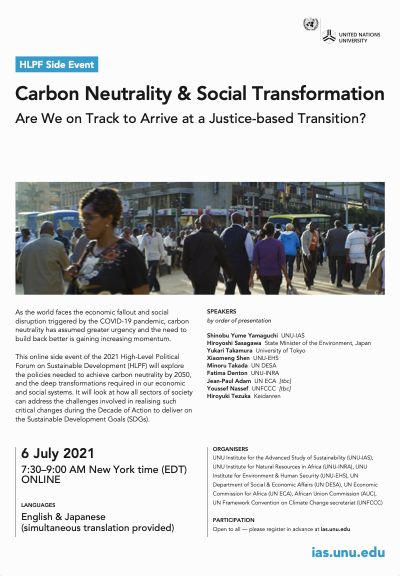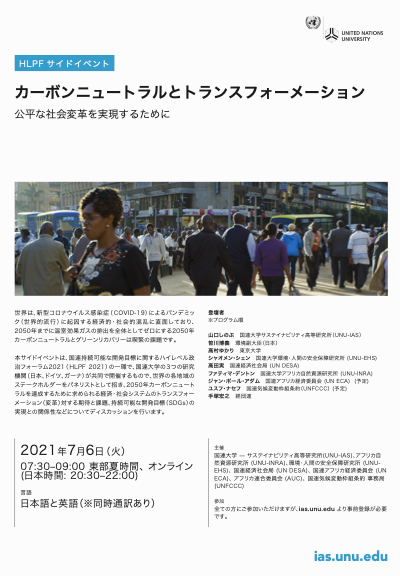 English                            Japanese
Speaker Profiles
Information on the speakers is available to view or download.
UNU-IAS at HLPF 2021
UNU-IAS is contributing to HLPF 2021 through a series of side events to advance discussions on education for sustainable development and biodiversity, in addition to carbon neutrality.