DATE / TIME:

2022•02•02 18:00 - 20:00

Location:

Online (JST)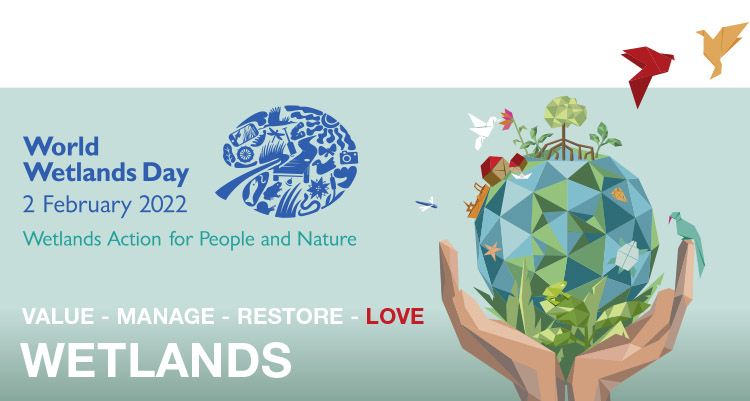 On 2 February 2022, UNU-IAS, Wetlands International Japan, and the Global Environment Outreach Centre (GEOC) will co-organise an online symposium for World Wetlands Day (WWD) 2022. The theme of WWD 2022 is "Wetlands Action for People and Nature", focusing on ways to encourage wetlands preservation and sustainable use.
Celebrated every year on 2 February, WWD marks the date of the adoption of the Convention on Wetlands in the Iranian city of Ramsar in 1971. 2022 is the first year that WWD will be observed as a United Nations International Day.
Programme
18:00–18:10 Opening remarks
18:10–18:20 Ramsar Convention Updates
Ministry of the Environment of Japan, Department for the Wildlife Protection (TBD): 
The 2021 global outlook on wetlands and the newly designated Ramsar Site in Japan
18:20–18:40 Keynote Speech
Kathryn Bimson (Programme Coordinator, Water and Wetlands, IUCN Union for Conservation of Nature Asia Regional Office):
Wise use of wetlands as nature-based solutions
18:40–19:40 Presentations
Yuki Arai (Assistant Professor, Research Center for Social Systems, Shinshu University):
Cases studies from abroad: building societies which protect wetlands 
Mio Ejima (Promotion Office of the Ramsar Convention for Kashima City):
Building a harmonious relationship between the environment and industries: a fruitful collaboration of diverse actors 
Makiko Yanagiya (Programme Coordinator, UNU-IAS):
UN Decade on Ecosystem Restoration: steps ahead to restore our waterscapes and seascapes and build a sustainable society 
19:40–19:55 Q&A
19:55–20:00 Closing
Registration
Please register in advance using the online registration form. The number of participants is limited.
Language
This event will be held in English and Japanese, with simultaneous interpretation provided.