2016•01•01 Tokyo
As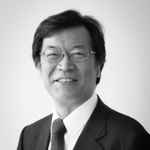 we enter the new year, I am pleased to reflect on the recent achievements of UNU-IAS and share my vision for the year ahead.
Throughout 2015 UNU-IAS made important contributions to global processes, including those that culminated in the adoption of the 2030 Agenda for Sustainable Development, the Paris Agreement and the Sendai Framework for Disaster Risk Reduction (DRR). Marking UNU's 40th anniversary, the university was honoured to host a visit by Their Majesties the Emperor and Empress of Japan in October, and organized a special symposium in November on implementation of the 2030 Agenda. Building on this excellent progress, we will be moving forward by further developing our research, policy development and capacity building activities during 2016 and beyond.
The UNU-IAS Board held its second meeting last October, adopting a new strategic plan for the institute that provides guidance for the development and implementation of our activities in the coming years. The plan emphasizes sustainability science, which will continue to serve as the overarching framework for our work. It also focuses on combining academic excellence and policy-relevant research. The approach of UNU-IAS will be to generate interdisciplinary knowledge to address topics that are high on the international agenda, producing science-based inputs to inform policymaking. We will be implementing this strategy with a focus on three specific policy areas.
The first of these is the 2030 Agenda. UNU-IAS will be working on the multi-level institutional architecture that will be needed for its implementation, including linkages between science and policy. We will also support education and knowledge generation for the Sustainable Development Goals (SDGs), and develop policy tools for sustainable urban water environments.
Our second targeted policy area is biodiversity and ecosystem services. UNU-IAS will continue to advance efforts towards achieving the Aichi Biodiversity Targets of the Convention on Biological Diversity (CBD), by assisting member states in implementation and providing policy inputs based on analysis of local case studies from our global networks. We will contribute to national, regional and global assessments for IPBES and develop strategies for participatory scenario building.
In the third policy area of climate change and DRR, our research will contribute to implementation of the Paris Agreement by advancing international cooperation on low carbon technology, and by building an integrated strategy for adaptation in semi-arid Africa. UNU-IAS will also be working on implementation of the Sendai Framework, through research on risk communication and disaster recovery.
The UNU-IAS postgraduate degree programmes are now well established and will continue to develop, with enhanced opportunities for students through joint teaching with other leading universities such as the University of Tokyo, Sophia University and International Christian University. In July we celebrated the graduation of the first three students to complete our PhD in Sustainability Science programme, as well as eight students from our master's degree programme. This year we are establishing an alumni network to keep in touch with students after they graduate, and expand our research networks. This was a key recommendation arising from the evaluation of the postgraduate programmes by the National Institution for Academic Degrees and University Evaluation of Japan (NIAD-UE), which resulted in their accreditation in March 2015.
Focusing on these priorities, the research, policy development and capacity building activities of UNU-IAS will further advance global efforts towards a more sustainable future. UNU-IAS is fully committed to supporting international processes that are tackling immense challenges, such as the 2030 Agenda and the Paris Agreement.
With this opportunity I would like to acknowledge and thank all of the friends, partners and donors of UNU-IAS, as well as our staff, fellows and students, for their support and commitment. In the two years since our institute was established we have made substantial progress, and with your support I very much look forward to leading the further development and success of UNU-IAS during 2016 and beyond.
I wish you all a wonderful and successful year ahead.
Kazuhiko (Kazu) Takemoto
Director, UNU-IAS
January 2016