2015•03•02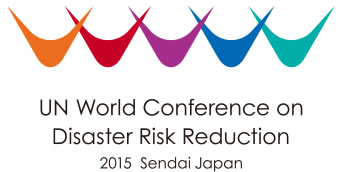 UNU-IAS will be a key contributor to the Third UN World Conference on Disaster Risk Reduction (WCDRR), to be held in Sendai, Japan on 14–18 March 2015. This landmark conference will review progress in disaster risk reduction (DRR) over the past 10 years under the Hyogo Framework for Action (HFA), and adopt a new global post-2015 framework for DRR. It is expected to attract around 8,000 participants, with thousands more participating in the open Public Forum segment of the conference.
UNU-IAS is providing input to a number of official Working Sessions at the conference, as well as organizing several side events in the Public Forum. Please see below for further details.
UNU-IAS Side Events in the Public Forum
Mainstreaming Ecosystem-based Disaster Risk Reduction and Reconstruction
14 March, 13:00 – 16:00
Transdisciplinary Education for Disaster Risk Reduction: Launching the International Network for Advancing Transdisciplinary Education
15 March, 9:30 – 12:00
Integrated Water Cycle Management for Disaster Risk Reduction and Sustainability
15 March, 13:30 – 16:00
Disaster Risk Reduction and the Transition from Response to Recovery
16 March, 09:10 – 11:40
Related UNU-IAS Research Projects
Fukushima Global Communication Programme
This project applies a human security approach to examine impacts of the Great East Japan Earthquake, tsunami and nuclear accident of March 11, 2011 on people and society, and the challenges of the recovery process in Fukushima. It also focuses on issues of risk and information provision, aiming to improve understanding of how the threat of radiation is perceived, and the specific challenges of risk communication related to nuclear energy.
Governance for Sustainable Development
This project aims to contribute to international discussions towards the establishment of the sustainable development goals (SDGs) and the post-2015 framework for disaster risk reduction, and to propose policies and frameworks for a long-term transformation in human behaviour towards a sustainable society. The research undertaken aims to examine the major challenges in the field of sustainable development and agreement of the post-2015 development agenda, and fundamental questions on how to achieve sustainability in the twenty-first century. The project looks to examine and analyze goal-setting and implementation processes (governance questions) of and for the SDGs.
University Network for Climate and Ecosystems Change Adaptation Research (UN-CECAR)
UN-CECAR is a framework for collaborative research, education and capacity development. It aims to enhance education and research on adaptation to climate change and ecosystems change, and to build the emerging sustainability science discipline. UN-CECAR is exploring new approaches to education for disaster management, and developing transdisciplinary educational programmes to create DRR knowledge and promote the adoption of DRR measures at the local level.