2022•04•12 Online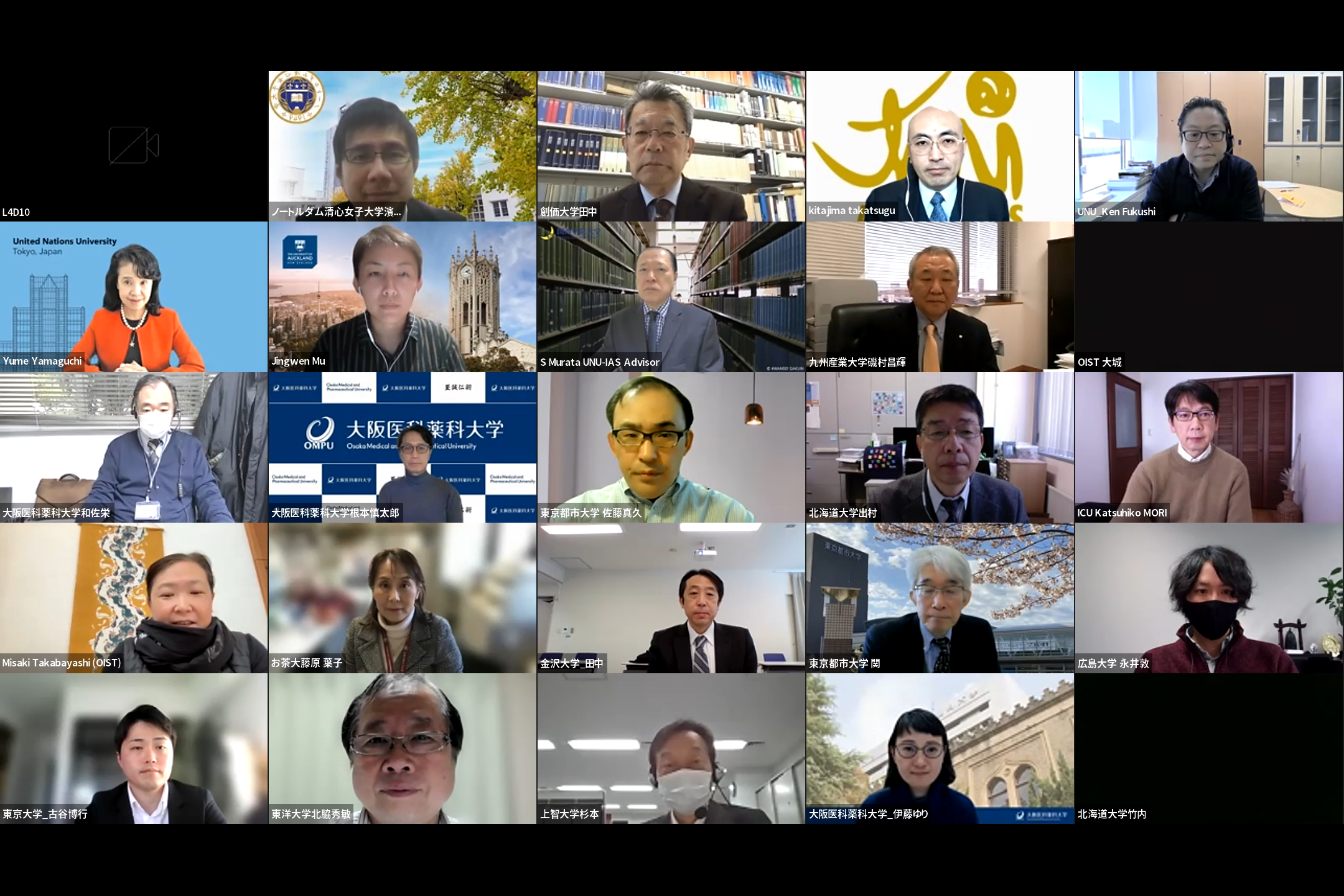 On 21 January 2022, UNU-IAS organised the 14th workshop of the SDG–Universities Platform (SDG-UP). The online event featured guest speaker Jingwen Mu (Strategic Planning Manager, University of Auckland, New Zealand), who discussed her institution's sustainability initiatives. The University of Auckland was ranked first in the world in the Impact Rankings by Times Higher Education in 2019 and 2020. It has been designated as an SDG 4 Quality Education Hub by the United Nations Academic Impact initiative and is committed to innovative and equitable educational practices. Promoting women's advancement since the 1890s, the university has contributed to SDG 5 (gender equality), and is actively working to achieve the other SDGs.
Dr Mu explained the university's three-tier approach to sustainability. The top tier is the strategic commitment formalised in its Vision 2030 and Strategic Plan 2025 documents, known as Taumata Teitei ("lofty peak" in Māori), expressing a desire to pursue excellence despite uncertainty. The second tier is the institution's operational plan, and the third comprises its measures of success (KPIs). The three tiers are implemented based on strategic drivers and a clear timeline.
The SDGs have been incorporated into all major activities at the university. SDG mapping using a methodology called the Auckland Approach helps to recognise and track SDG-related activities in the local and regional contexts. The university has also developed a business intelligence dashboard to visualise and disseminate the results of SDG mapping, and has been publishing an SDG Report covering relevant initiatives, activities, and projects.
Dr Mu concluded that she would continue to promote sustainability initiatives, recognising the university's role in strengthening ties with local communities and pursuing the common interests of the world.
In closing, Shunichi Murata (SDG-UP Advisor; Professor, School of Policy Studies, Kwansei Gakuin University) pointed out that New Zealand's national strategy was managed with consideration for diversity and gender equality. He also highlighted the University of Auckland's influence as a think tank where staff were encouraged to drive initiatives in various areas. Prof. Murata concluded that faculty members should think about what kind of students they would like to send out into the world, and how to develop an academic community that can effectively shape policy.
A detailed report of the workshop is available in Japanese.
Participating Universities
This workshop engaged 28 participating universities, which are listed below in alphabetical order.
Chiba University of Commerce
Ehime University
Hiroshima University
Hokkaido University
International Christian University
International University of Japan
Kanazawa University
Keio Gijuku University
Kwansei Gakuin University
Kyushu University
Kyushu Sangyo University
Nara University of Education
Notre Dame Seishin University
Ochanomizu University
Okinawa Institute of Science and Technology
Osaka Medical and Pharmaceutical University
Osaka Metropolitan University
Osaka University
Ryukoku University
Soka University
Sophia University
Tokai University
Tokyo City University
Tokyo Institute of Technology
Tokyo University of Foreign Studies
Toyo University
University of Tokyo
University of Tsukuba