2022•08•09 Online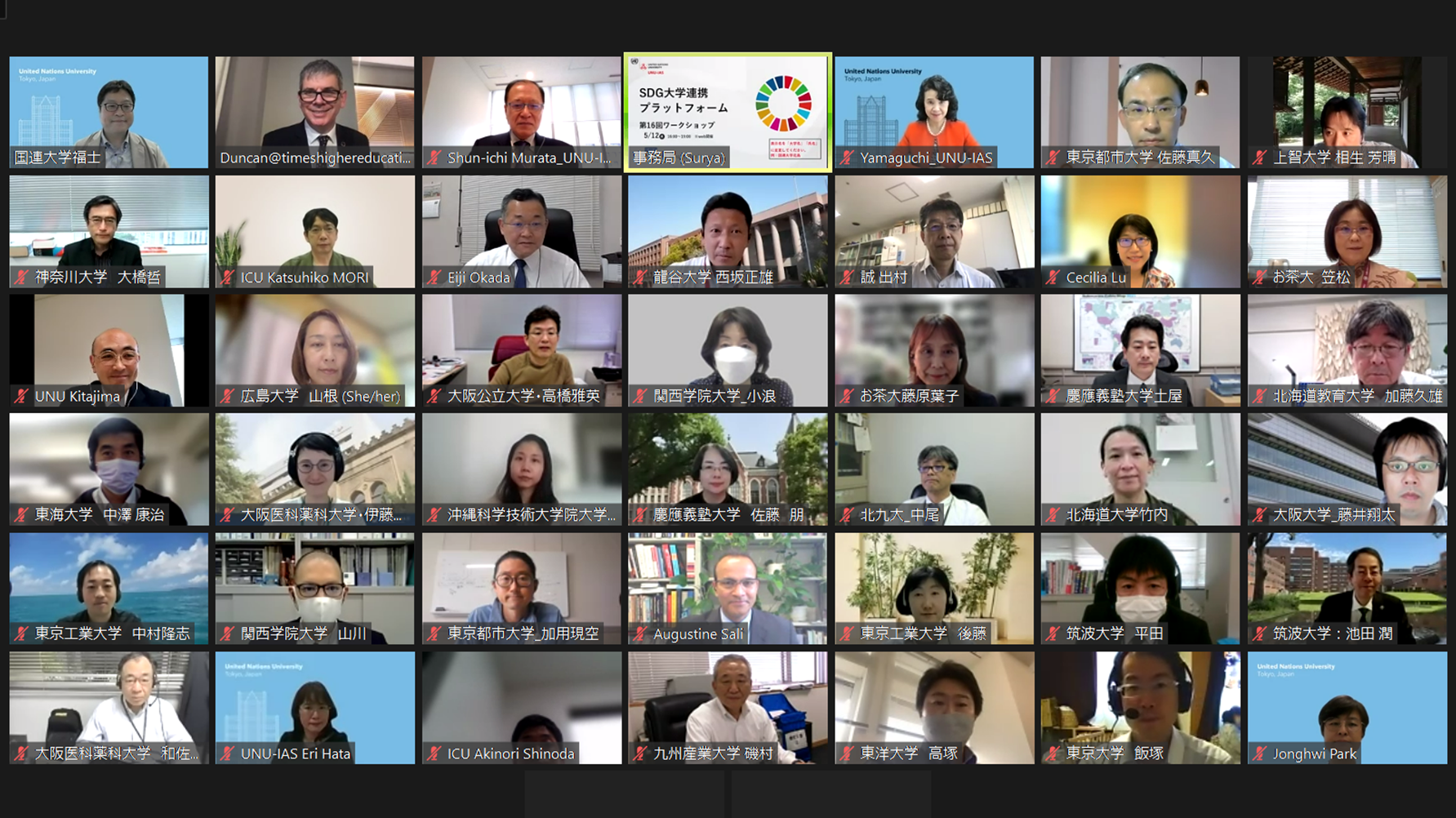 On 12 May 2022, UNU-IAS organised the 16th workshop of the SDG–Universities Platform (SDG-UP), featuring Duncan Ross (Chief Data Officer, Times Higher Education) who discussed recent trends in higher education and how universities could deepen their impact on achieving the SDGs. The online event engaged 70 participants from 29 universities across Japan.
Mr Ross noted that there were 25,000 universities worldwide with close ties to local communities and that their economic activities accounted for 1.7 per cent of the world's gross domestic product, adding that it was crucial to leverage their impact.
He explained that the Times Higher Education (THE) Impact Rankings aimed to make comparisons based on a balanced judgement of four aspects: research, stewardship (physical and human resource management), outreach, and education. Mr Ross highlighted areas in which universities could deepen their sustainability impact: (i) partnerships, (ii) openness, (iii) research, (iv) teaching, (v) community, (vi) stewardship, and (vii) focus. He expressed his hope that more universities in Japan and around the world would participate in the next round of rankings.
Shinobu Yume Yamaguchi (Director, UNU-IAS) moderated the Q&A session, followed by group discussion on the Impact Rankings 2022 and utilising external evaluation.
In closing remarks, Shunichi Murata (Advisor, SDG-UP; Kwansei Gakuin University) emphasised that the ultimate goal of the rankings was not to compete, but to use the rankings strategically and effectively to promote university reform. He pointed out that since the emergence of the Ukraine issue, understanding of Goal 16 (Peace and Justice For All) has increased in Europe and the United States, and efforts to achieve it were being strengthened at universities. Prof. Murata concluded that education on Goal 16 should be reviewed as part of the governance process in Japan.
A detailed report of this workshop is also available in Japanese.
Participating Universities
This workshop engaged 29 participating universities, which are listed below in alphabetical order.
Chiba University of Commerce
Ehime University
Hiroshima University
Hokkaido University
International Christian University
International University of Japan
Kanazawa University
Keio Gijuku University
Kitakyushu City University
Kwanseigakuin University
Kyushu Sangyo University
Nara University of Education
Notre Dame Seishin University
Ochanomizu University
Okayama University
Okinawa Institute of Science and Technology
Osaka Medical and Pharmaceutical University
Osaka Metropolitan University
Osaka University
Ryukoku University
Soka University
Sophia University
Tokai University
Tokyo City University
Tokyo Institute of Technology
Tokyo University of Science
Toyo University
University of Tokyo
University of Tsukuba