2020•03•25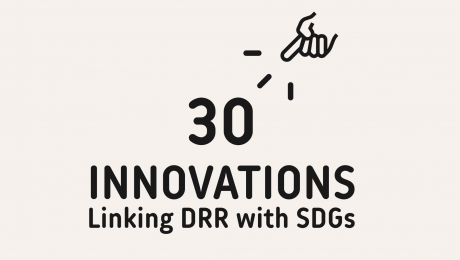 UNU-IAS Academic Programme Officer, Dr Riyanti Djalante, provided expert contributions to the recently released, "30 Innovations linking DRR with SDGs" report, the second volume in the "30 Innovations" series. This publication includes an additional 30 innovations focusing on 10 sectors – Emergency response, Gender, Health, Agriculture, Water, Children, Education, Disabilities, Livelihood, and Early warning – to demonstrate the strong linkages between DRR and the SDGs.
The report highlights the nature of complexities around the issue of DRR emphasising the need to focus more on both natural and man-made hazards, such as technological and chemical threats. Strong partnerships and collaboration beyond sectors are urgently required given the interdisciplinary and complex nature of DRR. Dr Djalante led the writing of innovations related to disability-inclusive DRR and livelihoods while providing further insights on accessible and universal design standards, ecosystem-based DRR, and a nexus approach toward climate change, and food security.
The publication was developed by a group of individuals from the International Institute of Disaster Science (IRIDeS) at Tohoku University, Keio University, the University of Tokyo, UNU-IAS, and Church World Service (CWS) Japan in collaboration with the Association of Pacific Rim Universities (APRU) Multi-Hazards Program. The case studies of the 30 innovations were selected in a series of discussions with the group.