2022•09•09 Online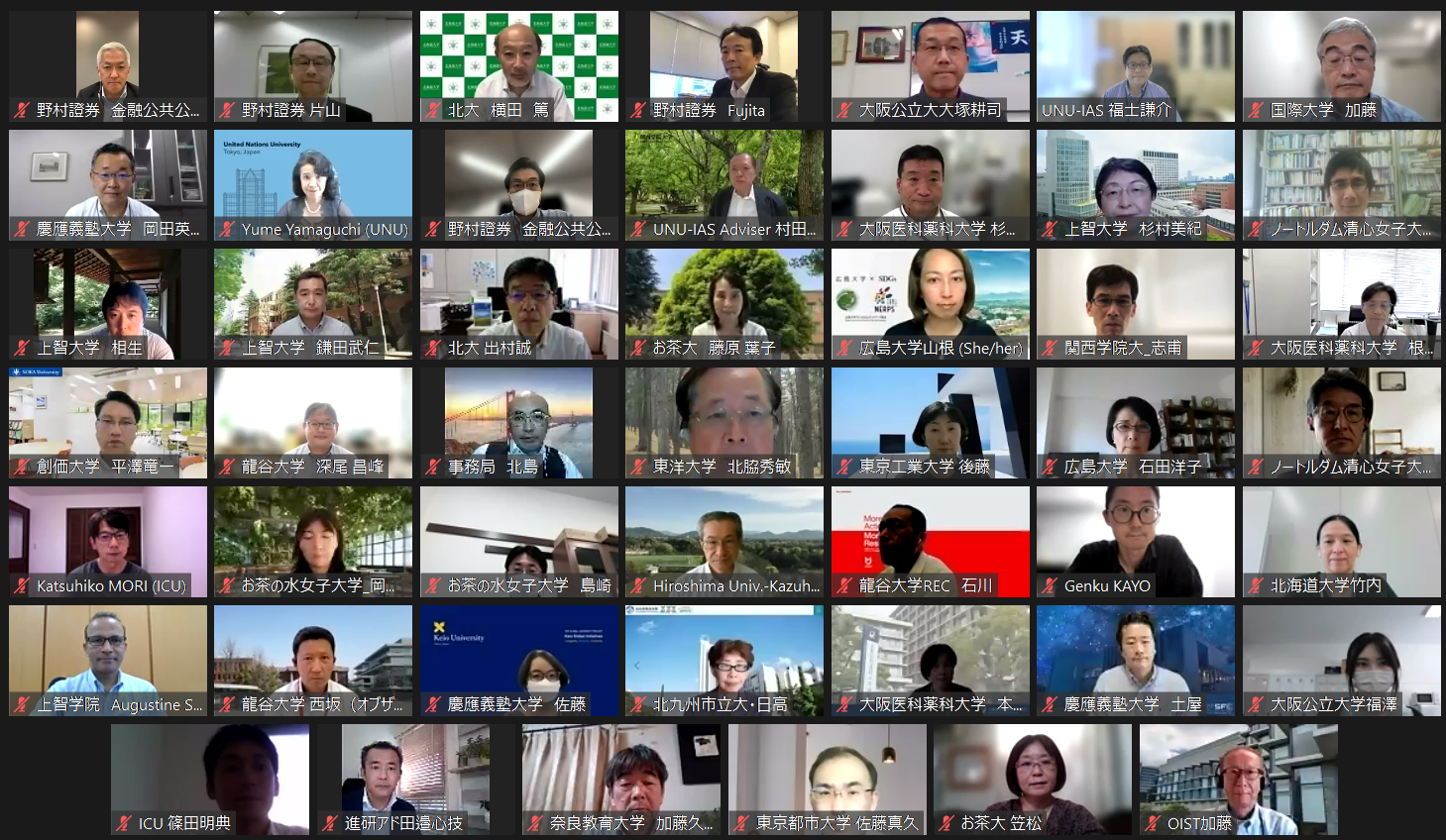 On 29 July 2022, UNU-IAS organised the 18th workshop and the second working group session of the SDG–Universities Platform (SDG–UP). The online event engaged 52 participants from 23 universities across Japan, in discussions by four working groups that followed up on the previous session.
Working Group on Management
A researcher from Nomura Securities was invited to speak on the use of SDG financing by universities and the diversification of fundraising tools. He stressed the importance of leveraging the organisational credibility of universities to build relationships with diverse stakeholders, and promote strong internal and external engagement.
Working Group on University Evaluation and Accountability
Hokkaido University, ranked 10th in the world in the Times Higher Education (THE) Impact Rankings 2022, reported on the efforts to implement the university's mission through emphasis on practical learning. The Sustainability Promotion Division of Sophia University shared a comparative analysis of the 2022 rankings.
Working Group on SDGs Curriculum
The group presented a progress report on the SDG-UP Academic Consortium established to effectively utilise the online teaching materials "Introduction to the UN SDGs". New course contents and a certificate of completion were also discussed.
Working Group on University Collaboration
The group discussed consolidating and disseminating information on SDG-related efforts by universities through a website. Participants shared views on how to use visualisation to effectively present sustainability issues that each university was addressing.
In closing, Shunichi Murata (SDG–UP Advisor; Professor, School of Policy Studies, Kwansei Gakuin University) commented on the efforts of each of the four working groups, noting that information sharing and discussions were progressing at a rapid pace. He expressed his hope for opportunities for faculty and students to meet in person to strengthen the network and further develop the platform.
A detailed report on the event is available in Japanese.
Participating Universities
This workshop engaged 23 participating universities, which are listed below in alphabetical order.
Hiroshima University
Hokkaido University
International Christian University
International University of Japan
Kanazawa University
Keio Gijuku University
Kwanseigakuin University
Nara University of Education
Notre Dame Seishin University
Ochanomizu University
Okayama University
Okinawa Institute of Science and Technology
Osaka Medical and Pharmaceutical University
Osaka Metropolitan University
Osaka University
Ryukoku University
Soka University
Sophia University
Tokai University
Tokyo City University
Tokyo Institute of Technology
Toyo University
The University of Kitakyushu