2017•10•02 Tokyo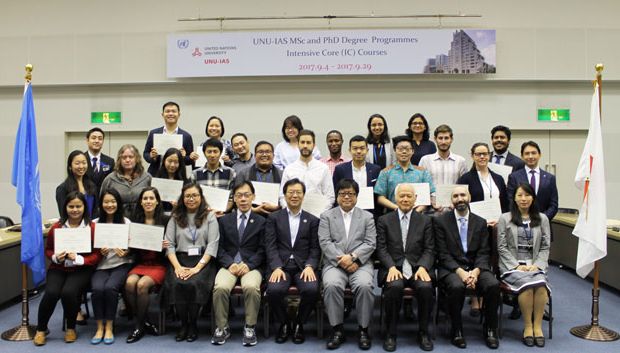 On 29 September, UNU-IAS held a closing session to mark the end of Intensive Core (IC) Courses 2017. The almost month-long session marks the beginning of the academic year, providing new students the necessary foundation to begin their studies in sustainability science.
Riyanti Djalante, Academic Programme Officer at UNU-IAS, offered opening remarks at the beginning of the session. After her remarks, three selected students expressed their impressions about what they learned from the course. Tadanori Inomata, a visiting professor at UNU-IAS; Kensuke Fukushi, a professor from the University of Tokyo; and Osamu Saito, Academic Director & Programme Officer at UNU-IAS offered their feedback on the experience. Kazuhiko Takemoto, Director of UNU-IAS, delivered congratulatory remarks and granted certificates of completion.
This year, 24 students participated in the courses both from Japan and abroad. Since the course began on 4 September, they completed about 30 lectures, as well as final exams, two excursions, and a weekend homestay programme. Some students spoke of the great opportunity to learn more about UN systems, the SDGs, and environment-related innovations. Much was accomplished within the limited timeframe, and the students enjoyed a fruitful experience.