2018•10•03 Tokyo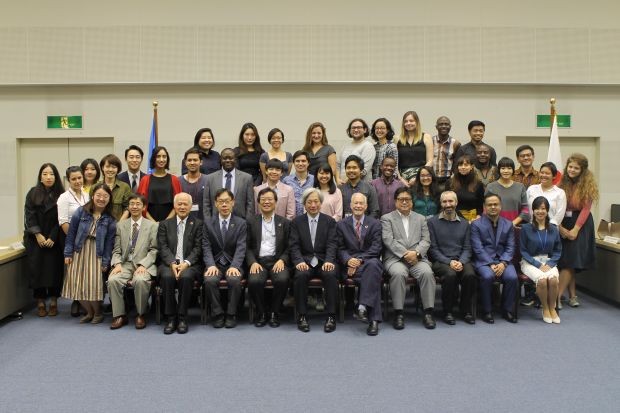 On 28 September, UNU-IAS held a closing session to mark the end of Intensive Core (IC) Courses 2018. The almost month-long session marks the beginning of the academic year, providing new students the necessary foundation to begin their studies in sustainability science.
The session began with explanations from three selected students regarding what they learned from the course. Kiichi Fujiwara and Kensuke Fukushi, both professors at the University of Tokyo, and Osamu Saito, Academic Director & Programme Officer at UNU-IAS, offered comments on the course. UNU Rector David M. Malone delivered congratulatory remarks; and UNU-IAS Director Kazuhiko Takemoto granted certificates of completion. Saroj Kumar Chapagain, a researcher at UNU-IAS, facilitated the event.
This year, 32 students from both Japan and abroad participated in the courses. Since courses began on 3 September, the students have completed lectures and exams and taken part in an excursion and a weekend homestay programme. Some students spoke of the great opportunity to learn more about the UN system, the Sustainable Development Goals, and environment-related technological innovation. Much was accomplished within a limited timeframe, and the students enjoyed a fruitful experience.