2019•10•03 Tokyo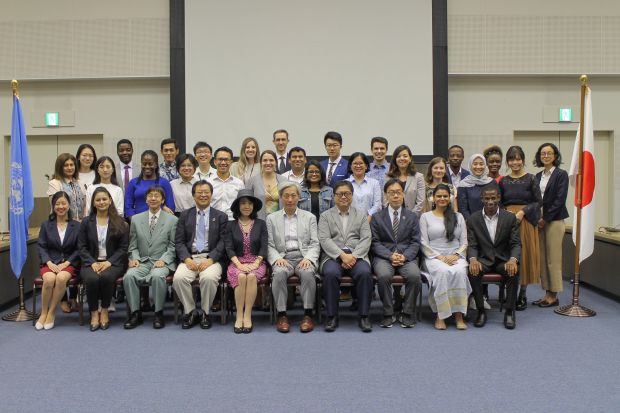 On 27 September, UNU-IAS held the closing session of the 2019 Intensive Core (IC) Courses. Since opening on 2 September, the courses have provided 26 students from Japan and other countries with opportunities to learn about essential theories and multilateral approaches to issues of sustainability and development, from an interdisciplinary perspectives. The course marks the beginning of the academic year, providing new students the necessary foundation to begin their studies in sustainability.
The closing session began with three students outlining what they had learned during the course, followed by a discussion in which participants shared the skills and knowledge they had acquired and how they could be applied in study and practice. Comments and further insights on the courses were provided by Kiichi Fujiwara (Director, Institute for Future Initiatives; Professor, University of Tokyo), Kensuke Fukushi (Professor, University of Tokyo), and Osamu Saito (Academic Director & Programme Officer, UNU-IAS). Kazuhiko Takemoto (Director, UNU-IAS) delivered congratulatory remarks and granted certificates of completion. Santa Pandit (JSPS–UNU Postdoctoral Fellow, UNU-IAS) facilitated the event.
In addition to lectures, discussions, and exams, the students took part in a field excursion and a weekend homestay programme. During the closing session several students expressed appreciation for the opportunities provided by the programme, including learning about the UN system, the Sustainable Development Goals, and environment-related technological innovation.