2020•09•29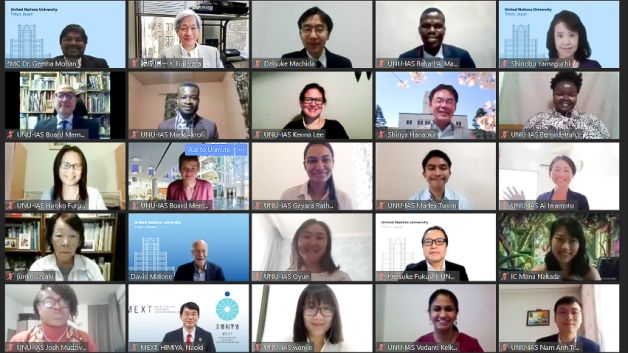 On 29 September, UNU-IAS held the closing session of the 2020 Intensive Core (IC) Courses. Since opening on 1 September, the courses have provided 37 students from 23 countries with opportunities to learn about essential theories and multilateral approaches to issues of sustainability and development, from interdisciplinary perspectives. The course marks the beginning of the academic year, providing new students the necessary foundation to begin their studies in sustainability.
The closing session began with three students' speeches outlining what they had learned during the courses. There was a lively discussion among students on various sustainability issues. Comments and further insights were also provided by each course coordinators Kiichi Fujiwara (Professor, The University of Tokyo), Kensuke Fukushi (Academic Programme Officer, UNU-IAS) and Shinya Hanaoka (Professor, Tokyo Institute of Technology). Shinobu Yume Yamaguchi (Director, UNU-IAS) delivered congratulatory remarks and granted certificates of completion. Saroj Chapagain (Research Fellow, UNU-IAS) facilitated the event.
In addition to lectures, discussions, and assignments, the students also took part in an online excursion of Meiji Shrine during a weekend break. During the closing session, several students expressed appreciation for the opportunities provided by the programme despite the challenges of COVID-19.