2015•11•19 Tokyo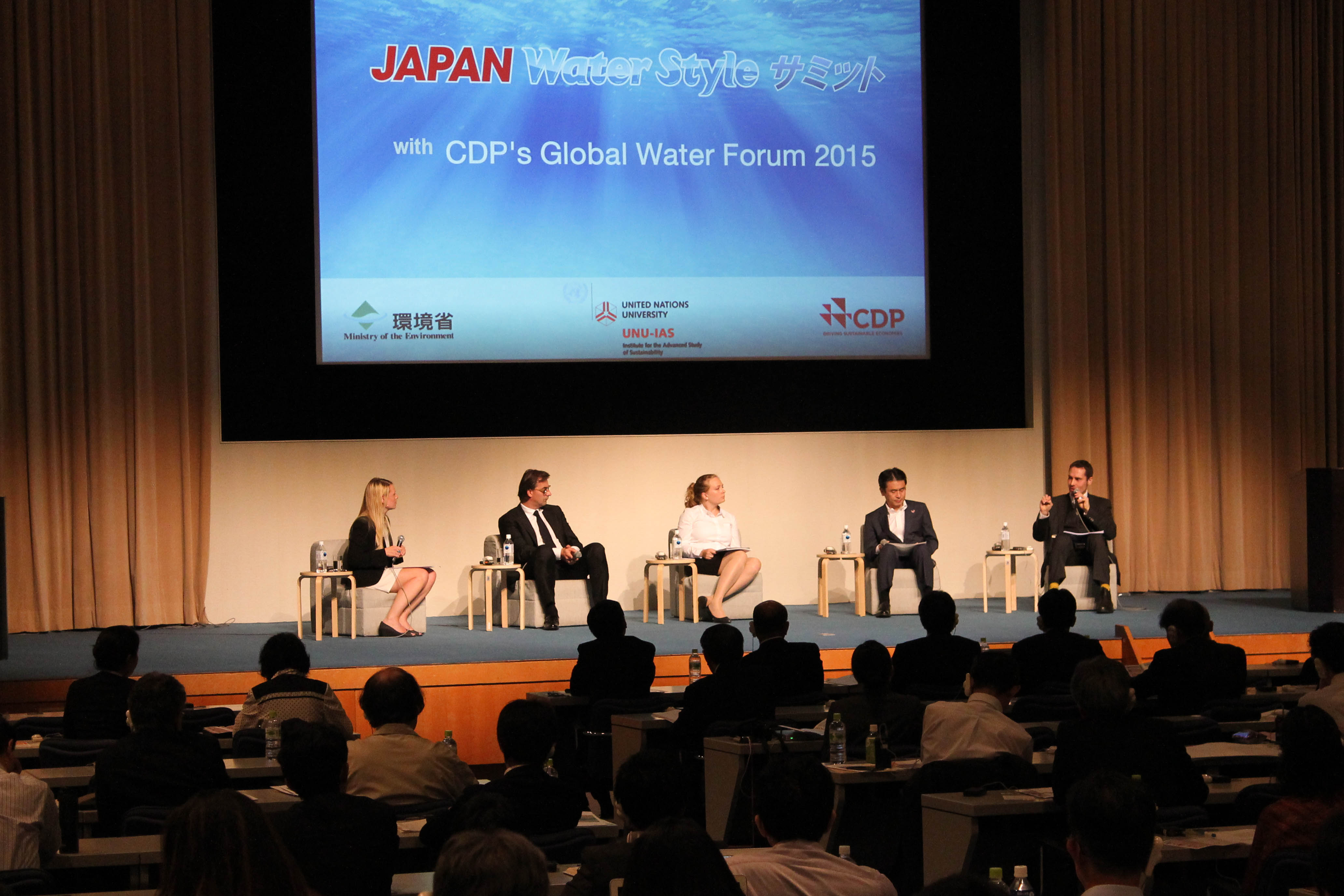 Japan Water Style Summit with CDP's Global Water Forum 2015, a joint event organized by the Ministry of the Environment of Japan (MOEJ), CDP and UNU-IAS, was held on 22 October 2015 at UN University, Tokyo. The event brought together private company representatives, investors, scientists, government officials and the general public to brainstorm ways to mitigate water-related risks, such as droughts, flooding and deteriorating water quality, which are projected to become the greatest threats the planet will face over the next decade, according to the World Economic Forum.
As part of the event, CDP ― a non-profit organization promoting measurement and disclosure of corporate information on environmental impacts ― officially presented its global report on corporate water information, Accelerating action – CDP Global Water Report 2015. The report summarizes the state of play in the corporate disclosure of water risk management policies. According to Cate Lamb (Head of Water, CDP), water management presents both financial risks and business opportunities, which make information on how companies tackle the issues valuable for investors.
Collection of corporate data on water also helps to promote behavioural change, and for the first time, in collaboration with South Pole Group, CDP has announced a Water A List of companies that understand the business imperative behind sustainable management of water and act to improve water safety.
The trend in corporate awareness of water risks has increased radically in the past six years, with market actors understanding increasingly the value of strategic and responsible water stewardship for better business resilience in the form of extended license to operate, bigger appeal for investors and improved corporate brand value. However, the report also indicates that despite increasing willingness of companies to respond to investors' requests to disclose water-related data, as few as 11% of them have robust and comprehensive water policies in place, while as many as 48% fail to conduct comprehensive assessments of their water withdrawals, consumption and discharges.
During the panel discussion, speakers emphasized the need for water risk management at all levels of the supply chain. Sasja Beslik (Head of Responsible Investment and Governance, Nordea) presented the case of India's pharmaceutical industry, where corruption at the local level poses challenges to global corporations that try to comply with safety standards.
Naomi Rosenthal (Key Account Manager, South Pole Group) stressed the added value of collective responses to water issues by all stakeholders operating in a given area. To address the initial hesitance of businesses to collaborate with competitors, existing CDP guidelines can help companies to achieve win-win results.
Other crucial components to promote better water management are increasing awareness and improving ways of delivering scientific knowledge. MOEJ introduced its efforts to promote these concepts among civil society and local businesses, namely the Japan Water Style campaign, and the Water Day 8/1. Keisuke Fukushi from the UNU-IAS Water and Urban Initiative (WUI) talked about water-related problems in cities in developing countries. He also talked about the objectives of and scientific approaches taken by the WUI project, and stressed the importance of understanding roles that water can play in sustainable urban development.