2019•08•26 Tokyo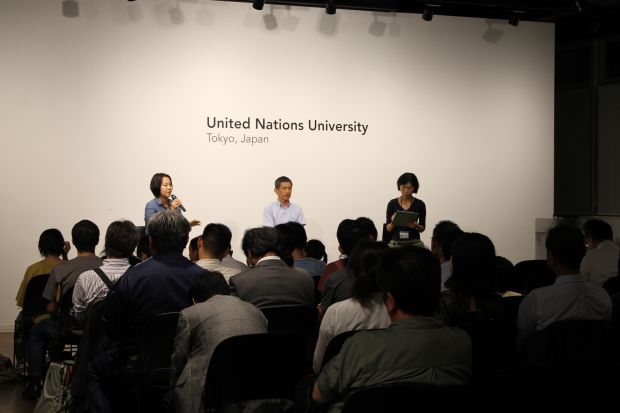 On 23 July 2019, UNU-IAS and the Global Environment Outreach Centre (GEOC) jointly hosted a screening of Chasing Coral, a 2017 documentary film about coral bleaching.
In opening remarks, Tsunao Watanabe (Senior Programme Coordinator, UNU-IAS) highlighted recent reports of the IPCC and IPBES, which warned of the severe impacts of climate change on coral reefs.
Evonne Yiu (Research Fellow, UNU-IAS) emphasised the many benefits that coral reefs provide, including food supply, positive economic impacts, and disaster risk reduction. She also reported on coral bleaching occurring in Japan.
A discussion after the film, chaired by Tomoko Hoshino of GEOC, focused on action to save corals. Takahiro Okano (Deputy Director, Biodiversity Policy Division, Nature Conservation Bureau, Ministry of the Environment of Japan) stressed the need to transform our lifestyles through individual actions. Dr. Yiu introduced the regulation of reef-toxic sunscreen chemicals and plastic waste in other countries, and stressed the need for implementation of such measures in Japan. Other participants also shared opinions and stressed the need to raise awareness of local environmental issues.
In closing remarks, Ms. Hoshino underlined the importance of multi-stakeholder approaches to cross-cutting problems including coral bleaching.