2022•05•26 Online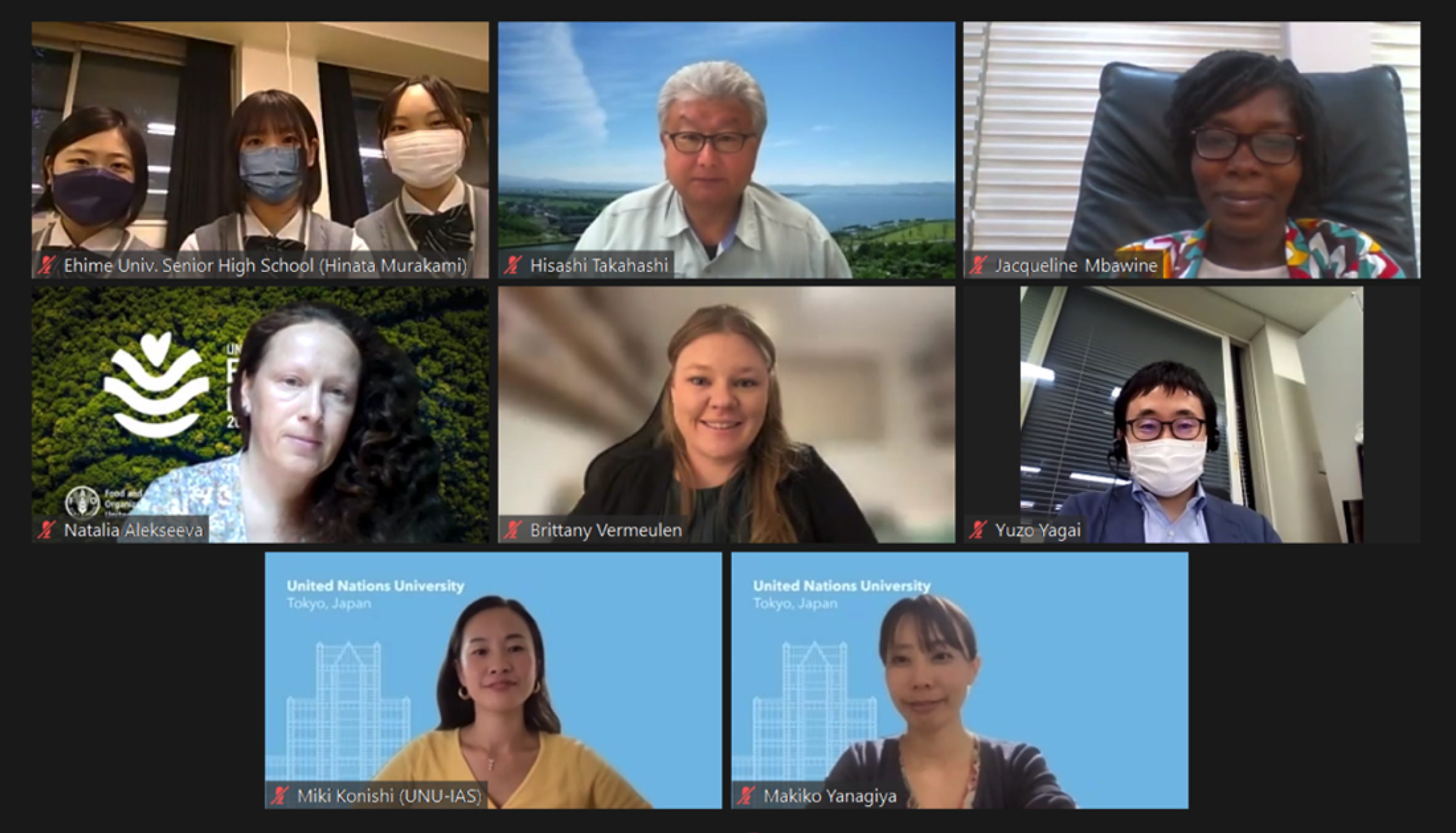 On 20 May 2022, UNU-IAS co-organised a symposium to celebrate International Day for Biological Diversity under the theme 'Building a Shared Future for All Life'. It focused on linking local initiatives with the international policy agenda to accelerate global conservation efforts. The event was organised in partnership with the Ministry of the Environment Japan (MOEJ) and the Global Environment Outreach Centre (GEOC), with the support of the Japan Conference for 2030 Global Biodiversity Framework (J-GBF).
In opening remarks, Toshitaka Ooka (State Minister of the Environment, Japan) reiterated the commitment made by Japan during the 47th G7 Summit to transition to a nature positive society, through a roadmap to achieve the 30by30 targets, in line with the Post-2020 Global Biodiversity Framework.
Elizabeth Maruma Mrema (Executive Secretary of the Convention on Biological Diversity) expressed her appreciation of Japan's leadership in global biodiversity discussions. She also stressed that the Post-2020 Global Biodiversity Framework emphasised a collaborative approach and that everyone's action was needed to set the world on track to living in harmony with nature by 2050.
Kazuhiko Takeuchi (Visiting Professor, UNU-IAS) delivered a keynote presentation on global trends for biodiversity in anticipation of COP15. He underlined the importance of synergies between climate change and biodiversity in strategic approaches, setting ambitious targets, and monitoring progress.
In her keynote speech, Natalia Alekseeva (Workstream Leader, Innovation for Sustainability, Office of Climate Change, Biodiversity and Environment, FAO) introduced the UN Decade on Ecosystem Restoration, outlining its mission and initiatives. She warned that conservation efforts were not sufficient — we also need to restore ecosystems and shift to sustainable consumption and production in order to reach our targets.
Makiko Yanagiya (Programme Coordinator, UNU-IAS) moderated a panel discussion featuring Hisashi Takahashi (Chairperson, Kahokugata Lake Institute), the Pla-Girls Team (Ehime University Senior High School, Science Club), Jacqueline Mbawine (Monitoring, Evaluation and Reporting Manager, A Rocha Ghana), Brittany Vermeulen (RCE Greater Western Sydney, Western Sydney University) and Yuzo Yagai (Director of Office for Mainstreaming Biodiversity, Ministry of the Environment, Japan). Panelists shared their experiences and views on engaging local communities in ecosystem and biodiversity conservation and restoration. They highlighted the importance of multi-stakeholder dialogue, using visualisation to communicate scientific data, and the interconnections between biodiversity, women's empowerment, and youth engagement.
In closing remarks, Shinobu Yamaguchi (Director, UNU-IAS) stressed the commitment of UNU-IAS to advance inter-disciplinary approaches through projects such as the International Satoyama Initiative, the RCE Global Network, the UNU-IAS Operating Unit In Kanazawa/Ishikawa, and GEOC.
A recording of the session is available on the GEOC YouTube channel.