2023•05•24 Tokyo
On 15 May 2023 UNU-IAS co-organised a symposium to celebrate International Day for Biological Diversity, on the theme "From Agreement to Action: Build Back Biodiversity". The event focused on national and global efforts towards implementing the Kunming–Montreal Global Biodiversity Framework (GBF) — a historic agreement to protect at least 30% of the Earth's ecosystems by 2030. The event was co-organised with the Ministry of the Environment Japan (MOEJ), the Global Environment Outreach Centre (GEOC), and the Nature Conservation Society of Japan (NACS-J), with the support of the Japan Conference for 2030 Global Biodiversity Framework (J-GBF) and the Secretariat of the Convention on Biological Diversity (CBD).
In opening remarks, Miki Yamada (State Minister of the Environment, Japan) highlighted Japan's commitment towards achieving the 30 by 30 target of the GBF. This includes adoption of the National Biodiversity Strategy of Japan 2023–2030, and a certification mechanism to promote Other Effective area-based Conservation Measures (OECMs) — sites outside of protected areas which are managed in ways that support biodiversity conservation.
Tshilidzi Marwala (Rector, UNU) introduced UNU-IAS initiatives addressing multiple global challenges, including the International Partnership for the Satoyama Initiative (IPSI), the Youth Biodiversity Art Challenge, and policy recommendations produced as part of Think7 (T7). He highlighted the importance of a whole-of-society approach to maximise synergies between biodiversity, climate, and the SDGs.
In a keynote presentation, David Cooper (Acting Executive Secretary of the Secretariat of the Convention on Biological Diversity) expressed his appreciation for Japan's leadership in mainstreaming biodiversity. He stressed that the new framework was challenging but achievable, and encouraged participants to take action to conserve biodiversity at all levels and in every sector.
Outlining the new biodiversity strategy of Japan, Kazuhiko Takeuchi (President, Institute for Global Environmental Strategies) noted its emphasis on collaboration between diverse stakeholders including the private sector and youth. He underlined the effectiveness of IPSI's efforts to promote OECMs globally while advancing integrated solutions for climate change, biodiversity, desertification, and SDGs.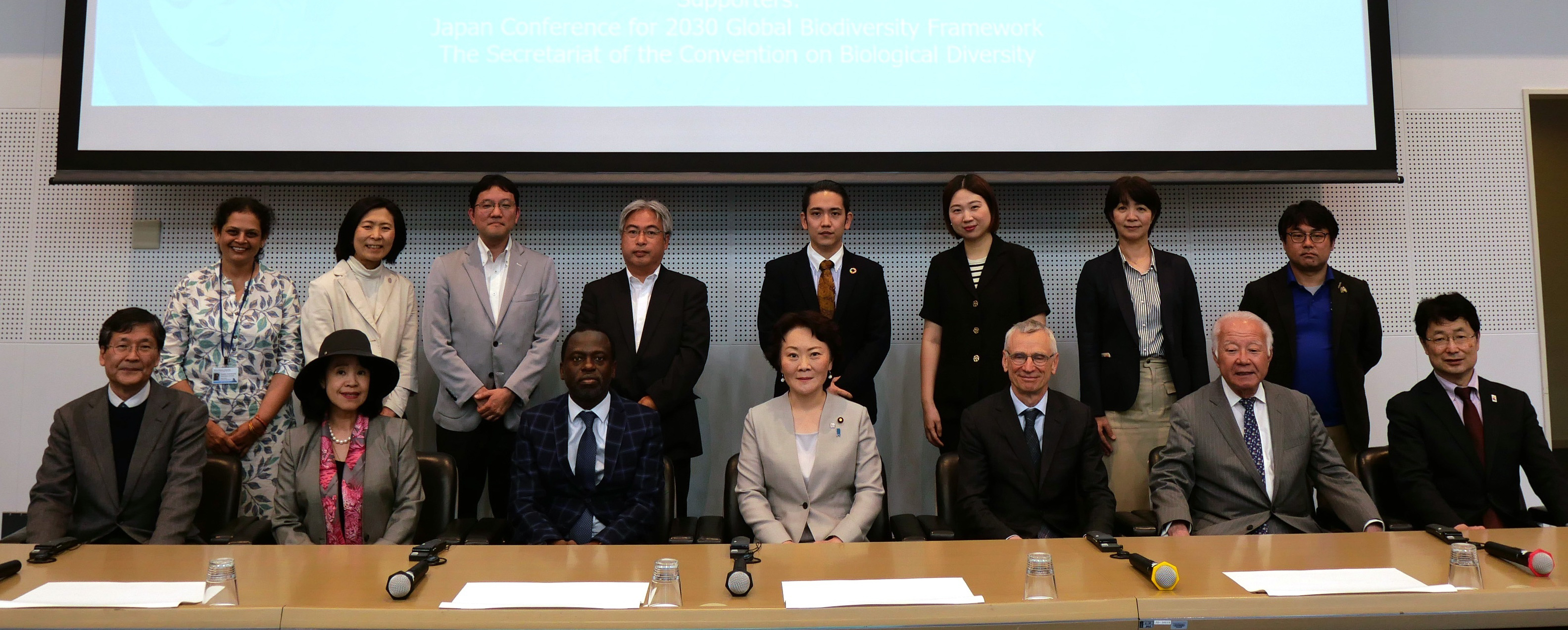 Through a presentation session experts shared insights and best practices for biodiversity conservation. Upalat Korwatanasakul (Consultant, UNU-IAS) highlighted the importance of synergetic approaches and the need for consistent policies, as recommended in an issue paper produced by a T7 task force that was co-chaired by UNU-IAS. Unji Lee (Regional Centre of Expertise on Education for Sustainable Development [RCE] Tongyeong) introduced the Eco Study Trip to Sejahtera Forest in Korea, an example of a collaborative initiative raising awareness and scaling up local biodiversity action. Akinori Osuga (Deputy General Manager Unit Leader, Promotion Unit, Sustainability Management and Promotion Department, Mitsubishi Estate Co., Ltd.) shared his organisation's long-term business strategy that placed sustainability at its core, and introduced a project in Minakami, Japan in collaboration with NACS-J and the local government. Discussing the importance of multistakeholder partnerships, Hajime Yoshino (Representative Director, General Incorporated Association MIT) introduced a project promoting sustainable farming practices in Tsushima, Japan, aimed at protecting the local leopard population.
A panel discussion moderated by Hoshino Tomoko (GEOC) explored linking global policies and local action, and how to engage diverse stakeholders, including youth, in policymaking. Suneetha Subramanian (Research Fellow, UNU-IAS) shared insights from participation in the UN Biodiversity Conference (CBD COP15) and UN Climate Change Conference (COP27), highlighting the importance of global conferences to catalyse transformative change.
In closing, Shinobu Yume Yamaguchi (Director, UNU-IAS) stressed the need for interdisciplinary, intergenerational, and intersectional approaches to halt and reverse nature loss, and ensure a sustainable future for people and the planet.
Select presentations from the event are available on the Related Files tab.