2018•07•09 Tokyo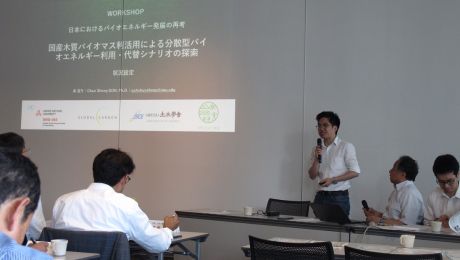 On 28 June 2018, UNU-IAS organized the workshop Rethinking bioenergy development: Exploring an alternative scenario with decentralized bioenergy system supported by domestic woody biomass supply at UNU Headquarters. The workshop was attended by 35 experts from governments, academia, industries and NGOs, spanning a considerable range of expertise: forestry, energy systems, supply chain, socio-economic and business development, landscape planning as well as sustainability science. This workshop explored two lines of inquiry: utilising domestic biomass resources alongside forestry revitalisation and developing decentralised bioenergy systems for both heat and power.
To reach across these fields, participants identified available knowledge and knowledge gaps and formulated recommendations for decision makers and scientific communities by exploring such scenarios through five key questions. This started with a debate on the potential of revitalising local forestry and the implications to the environment. It was followed by technical discussion about the actual amount of biomass mobilizable for energy purposes. The third question focused on closing the supply chain by exploring the role of bioenergy in the energy system by strategically matching supply with demand. In order to ensure sustainability of the whole system, a fourth question intended to provide an overview of the synergies and trade-offs of bioenergy development across sectors, borders and scales. The most subtle component, socio-economic opportunities and challenges, was the last puzzle piece of the entire discussion. At the end of the day, the workshop had collected valuable inputs from the participants over seven hours of interactive and intensive discussion.
A follow-up workshop was organized the next day in Kofu City, Yamanashi prefecture. This workshop was attended by different participants, mainly from local governments, companies and communities. It aimed to disseminate scientific knowledge about sustainability to a wider audience. The event was covered by NHK.
The expected outcome of these workshops is a perspective paper as well as a UNU-IAS Policy Brief. For further information, please contact Dr. Chun Sheng Goh at gohchunsheng@unu.edu.