2019•04•22 Tokyo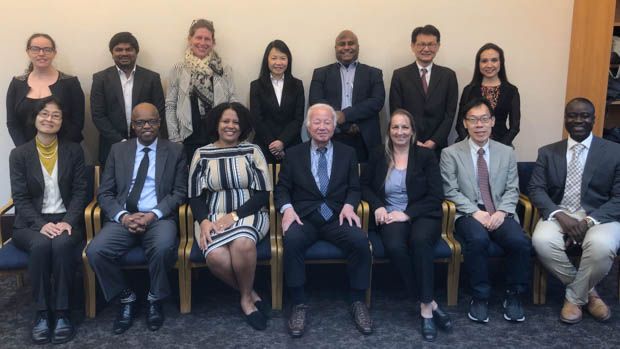 Speakers and participants at the symposium Solutions for Urban Sustainability in Africa: Localizing Urban-related SDGs in Ghana, Malawi, and South Africa
On 18 March 2019, UNU-IAS co-hosted an international symposium at the University of Tokyo to present and discuss the final outcomes of the project Urban Sustainability in Africa (USiA) with a diverse audience comprising members of the private and public sectors, academia, and civil society.
Held as an early side event of the Seventh Tokyo International Conference on African Development (TICAD VII, 28–30 August 2019), the symposium considered research findings, prioritised solutions, and tradeoffs and synergies between SDGs, in the project's target countries of Ghana, Malawi, and South Africa. The focus of the project was on urban–rural interlinkages (Ghana), sustainable transportation (South Africa), and water, sanitation, and health (Malawi).
The symposium was held in collaboration with Japan International Cooperation Agency (JICA), the Integrated Research System for Sustainability Science (IR3S) at the University of Tokyo, the Institute for Global Environmental Strategies (IGES), and the Sustainability Science Consortium (SSC), as well as project partners the University of Ghana, the University of Cape Town, and the University of Malawi.
Kazuhiko Takeuchi (Director, IR3S and President, IGES) delivered opening remarks, highlighting the project's commitment to understanding policy priorities for the achievement of SDGs 9 (industry, innovation, and infrastructure) and 11 (sustainable cities and communities). Masanori Kurisu represented JICA and presented its efforts towards achieving the SDGs, including partnerships with the Development Bank of South Africa (DBSA) to mobilize resources. Seison Reddy (DBSA) introduced the bank's projects and its value proposition for developing social and economic infrastructure for the SDGs, focusing on sanitation, energy, and industry innovation.
Osamu Saito (Academic Director and Programme Officer, UNU-IAS) emphasised the project findings with an overview of objectives and methodologies, including results from six successful workshops held with key stakeholders in three project partner countries in Africa. Prioritised solutions for each of these countries were presented by Adelina Mensah (Ghana), Marianne Vanderschuren (South Africa), and Ishmael Kosamu (Malawi). The young researchers were also invited to present their project findings and to discuss how they support the achievement of the SDGs in Africa.
The identified solutions and discussions focused on theme-specific priorities, such as smart watershed management and non-motorised transport infrastructure, as well as cross-cutting themes like education and gender equity. Policy briefs for each of the three countries will be published, with specific recommendations, and the project results will be disseminated in the lead-up to TICAD VII.