2021•12•05 Nanao City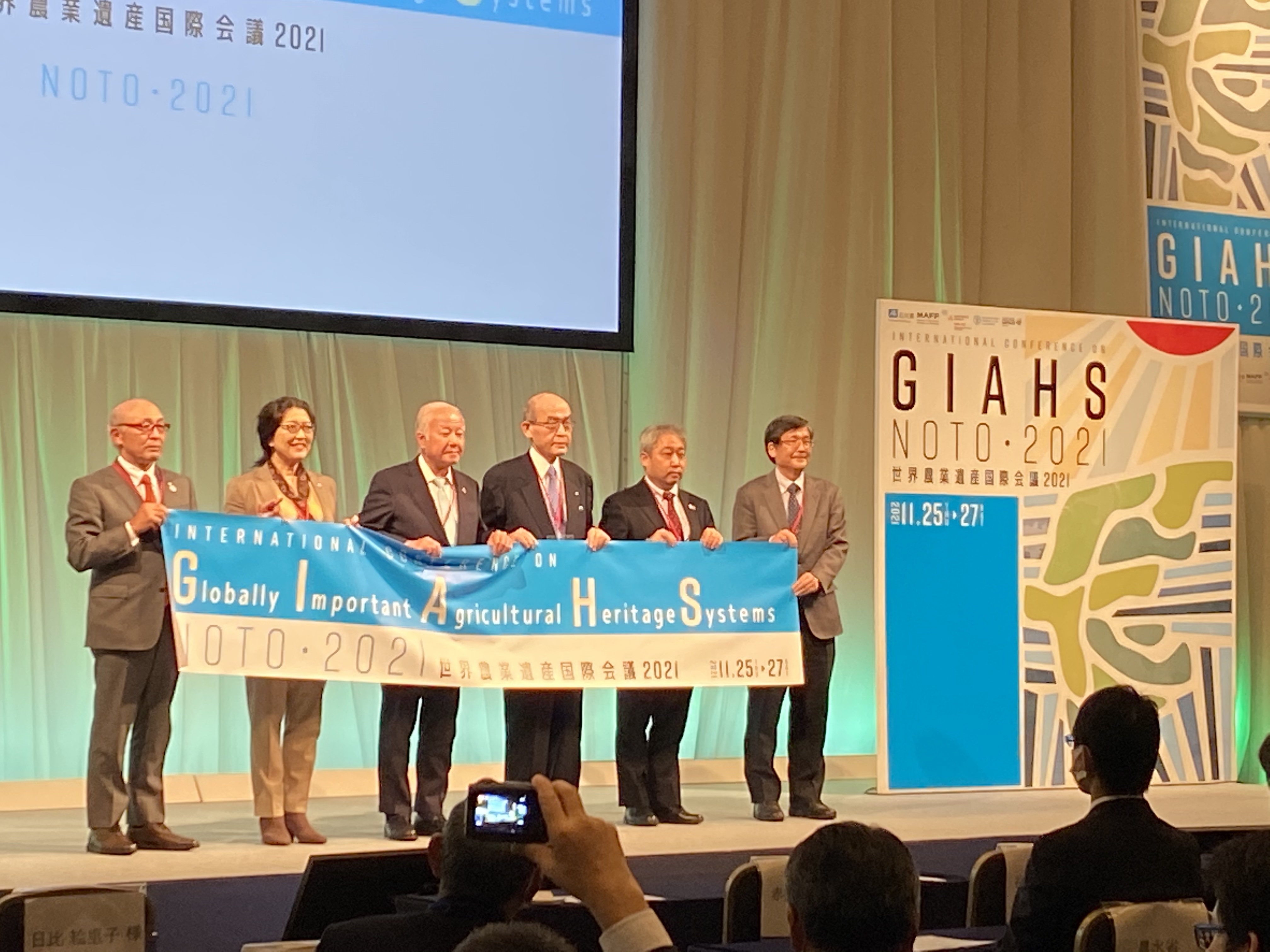 On 25–27 November 2021, UNU-IAS organised the International Conference on Globally Important Agricultural Heritage Systems (GIAHS), engaging representatives from GIAHS sites, policymakers, and researchers in Japan and other countries. It discussed their contributions to global issues such as climate change and biodiversity conservation, as well as a sustainable future for GIAHS sites.
The conference was organised with Ishikawa Prefecture, the Ministry of Agriculture, Forestry and Fisheries, Japan (MAFF), the Food and Agriculture Organization of the United Nations (FAO), and Noto Regional Association for GIAHS Promotion and Cooperation. It marked the 10th anniversary of "Noto's Satoyama Satoumi" being designated as the first GIAHS site in Japan, in 2011. GIAHS is an initiative established by the FAO in 2002 with the aim of protecting and passing on to future generations the traditional agriculture, farming methods, land use and culture, nature and biodiversity of the land that have been cultivated for food supply and economic livelihood for generations, for hundreds of years in many of the sites.
The three-day conference featured a keynote speech by Masanori Tanimoto (Governor of Ishikawa Prefecture), as well as high-level sessions and breakout sessions focused on issues such as the impact of climate change on GIAHS sites, biodiversity conservation in GIAHS sites, and social programmes required to conserve GIAHS. The conference also explored ways in which agricultural heritage systems can deepen links between sites and work together to address common challenges.
Noto Communiqué 2021
In the closing session on the second day of the conference, the Noto Communiqué 2021 was adopted. The communiqué includes the following commitments:
Sharing the results of activities and information with domestic and international agricultural stakeholders and agricultural policymakers.
Harmonisation with the ecosystem and environment of the certified area.
Creation of new economic activities using local resources.
Contribution to global issues such as climate change and biodiversity, and to the Sustainable Development Goals.
Support for candidate regions in developing countries.
Supporting candidate regions in developing countries.
GIAHS Youth Declaration
The closing session also delivered the GIAHS Youth Declaration, composed and presented by high school students representing GIAHS sites in Ishikawa, Miyazaki, and Niigata prefectures of Japan. The declaration was developed by the students through a facilitated workshop and discussions during the GIAHS Youth Summit, a side event organised by the UNU-IAS Operating Unit Ishikawa/Kanazawa (OUIK) on the same day.
* * *
Further information about this conference is available in a report by UNU-IAS OUIK.