2022•12•17 Montreal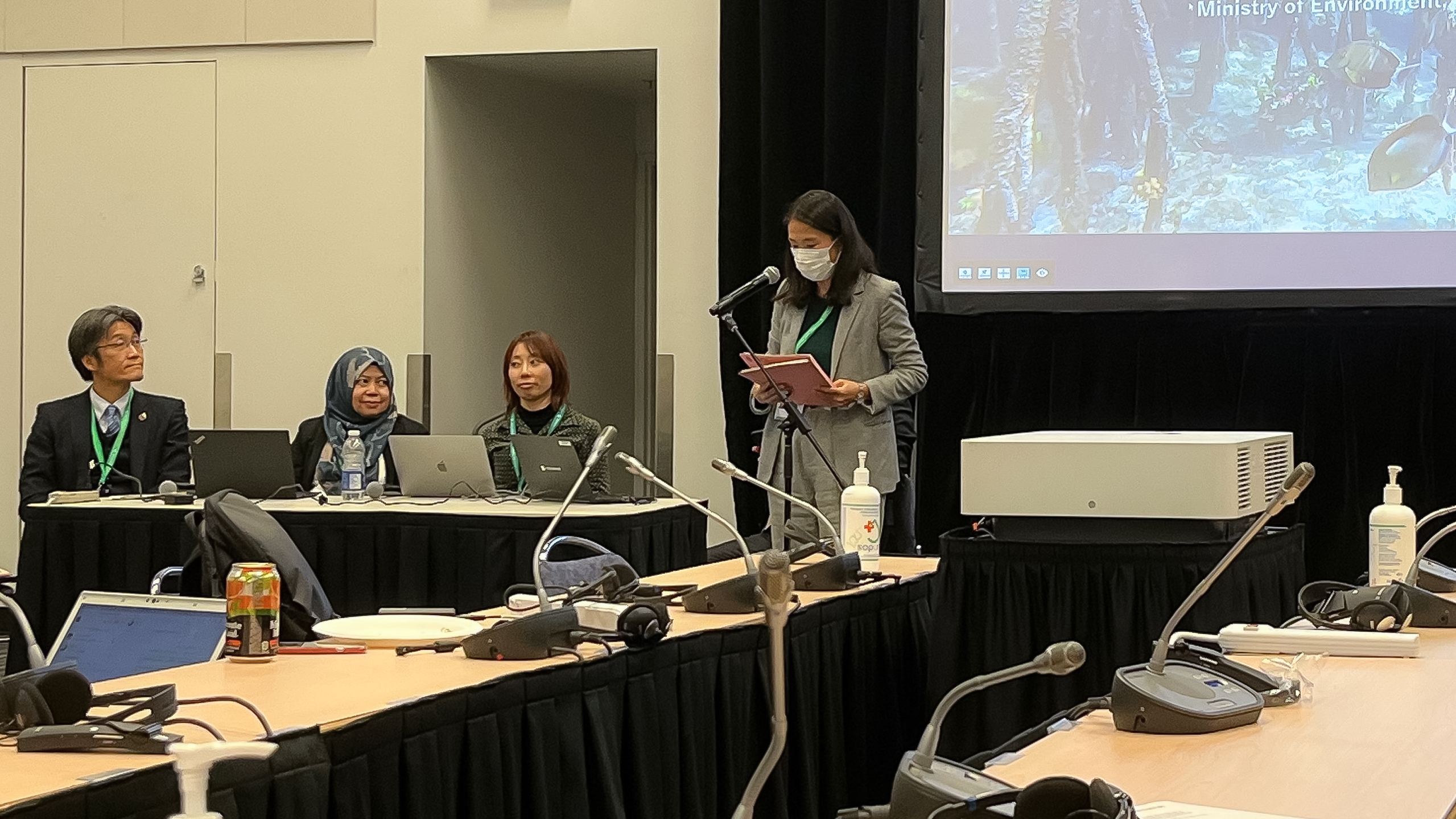 On 14 December 2022, UNU-IAS co-hosted a side event at the UN Biodiversity Conference (CBD COP15) in Montreal highlighting challenges and opportunities for mangrove conservation and restoration as a nature-based solution to climate change. The event was organised in partnership with the Japan International Cooperation Agency (JICA); the Ministry of Environment and Forestry, Indonesia; the Ministry of the Environment, Japan; the Secretariat of the CBD; and the International Partnership for the Satoyama Initiative (IPSI).
In opening remarks, Takahiro Morita (Director General, Group Director for Forestry and Nature Conservation, Global Environmental Department, JICA) pointed out that 60% of mangrove forests had disappeared in the past 30 years, and that mangrove restoration and conservation were urgently needed. Mangrove forests can help to mitigate climate change and address social challenges in coastal areas. Noriaki Sakaguchi (JICA) noted that JICA had conducted collaborative projects with Brazil, Indonesia, Mauritius, Mexico, Myanmar, Oman, Palau, the Philippines, and Viet Nam, to enhance capacity and develop models for mangrove restoration and sustainable management.
Affirming Indonesia's commitment to blue carbon protection, Badiah Achmad Said (Ministry of Environment and Forestry, Indonesia) stated that preventing mangrove degradation would reduce emissions from land use by 30%.
Makiko Yanagiya (Programme Coordinator, UNU-IAS) discussed stakeholder engagement to restore cultural seascapes, drawing on the outcomes of two symposiums organised by UNU-IAS in 2022. The first symposium focused on community-based activities and good practices for restoring vulnerable marine ecosystems, and the second symposium explored blue carbon systems and citizen science.
A panel discussion focused on how to develop and strengthen partnerships between local actors and the private sector to accelerate mangrove restoration and conservation. It featured the speakers, Julian Gonzalo Jimenez (Senior Carbon Finance Specialist, Climate Change Fund Management, World Bank), Mark Prein (Senior Technical Advisor, FfW Development Bank, Germany), and Aiba Takao (Chairman of Subcommittee on Planning, Keidanren Committee on Nature Conservation).
In closing, Miyazawa Yasuko (Deputy Director, Nature Conservation Bureau, Ministry of Environment, Japan) stressed that Japan and Indonesia would continue to collaborate through a new initiative that includes a three-year project to collect marine data with civic participation and training sessions on mangrove conservation. She added that it was important to facilitate resource mobilisation, continue discussions, and share good practices to successfully implement the post-2020 global biodiversity framework.