2019•10•15 Tokyo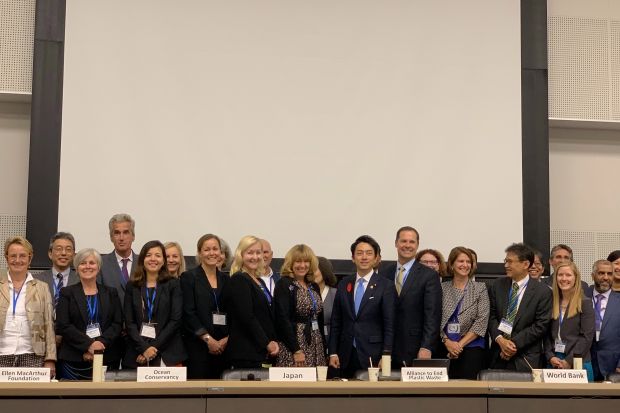 On 8–11 October 2019, UNU-IAS, together with Ministry of the Environment, Japan (MOEJ) and the Ministry of Economy, Trade and Industry, Japan (METI), co-organised a series of events focused on resource efficiency, including addressing marine plastic litter. The G20 Resource Efficiency Dialogue and Follow up of the G20 Implementation Framework for Actions on Marine Plastic Litter promoted cooperation and dialogue between G20 members on these topics, following up on the G20 Osaka Summit held in June 2019.
The dialogue, held on 9–10 October, engaged around 100 participants from 17 countries, including G20 members, international organisations, and research institutions. In welcoming remarks, Shinjiro Koizumi (Minister of the Environment, Government of Japan) highlighted the importance of global innovation and local action to combat marine plastic litter.
The "G20 Report on Actions against Marine Plastic Litter" was developed as the first initiative for sharing information on the policies of G20 countries, as well as outcomes, challenges, and best practices. The report is based on the G20 Implementation Framework adopted at the Ministerial Meeting on Energy Transitions and Global Environment for Sustainable Development in June 2019.
A further outcome of the dialogue was the adoption of the "Roadmap for the G20 Resource Efficiency Dialogue", based on the agreement made at the G20 Osaka Summit. The roadmap indicates specific policies and actions to be taken by G20 member countries — with Japan focusing on international cooperation in the Asia-Pacific and Africa regions, the United States on food loss, and the European Union on finance, among others.
In closing remarks, a representative of Saudi Arabia, holder of the next G20 Presidency, announced that the focus on marine plastic litter and resource efficiency would be continued, building on the G20 Implementation Framework for Actions on Marine Plastic Litter.
Further information is available on the MOEJ website (Japanese).