2021•06•25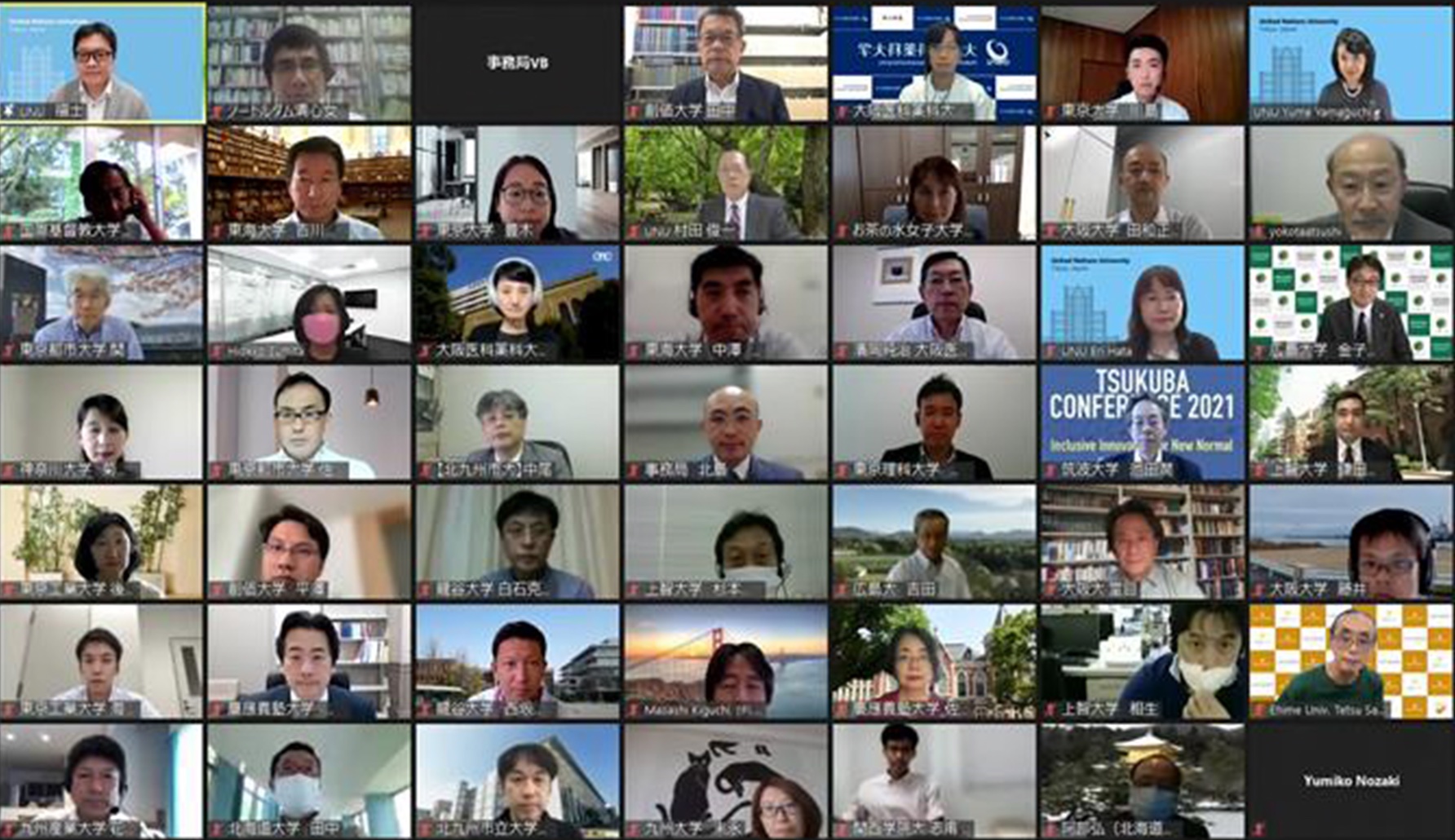 UNU-IAS organised the eighth workshop for the UNU SDG–University Platform (SDG-UP) on 18 June 2021 through videoconferencing. There were 62 participants from 25 participating universities across Japan. Director and Vice President Shinji Kaneko (hereinafter referred to as "Director Kaneko"), who is in charge of overseeing the SDGs, presented results and efforts from Hiroshima University, which tied for first place overall among the 85 participating universities from Japan in the 2021 Impact Ranking. Hiroshima University has been engaged in peace research and education for many years and, most recently, has positioned its contribution to the SDGs as an important issue for the entire university. Currently, there are five areas of university reform: internationalisation, education, research, and regional development are interrelated and developing in a variety of ways. In 2017, Hiroshima University formulated the long-term vision "Sustainable Peace Leader Enhancement by Nurturing Development of Research (SPLENDOR) Plan 2017". In 2018, the University established the Network for Education and Research on Peace and Sustainability (NERPS) to address "Goal 4: Quality Education" and "Goal 16: Peace, Justice and Strong Institutions", and is also highly committed to activities related to other goals.
An important international activity is a collaboration with Arizona State University (ASU). Members of the executive board of Hiroshima University conducted in-depth research on ASU's innovative university management model, the "Academic Enterprise Model," and visited the site to understand how the management model operates. That was a good opportunity for Hiroshima University to develop its globalisation and regional development agendas. Following the example of ASU and the city of Tempe, where the town (city) and gown (students and faculty) are working together to solve issues to achieve the SDGs in the region, Hiroshima University and the city of Higashihiroshima have collaborated to establish a preparatory office for the establishment of the Town Gown Office in April 2021. Starting in 2021, Hiroshima University and Higashi-Hiroshima City will be joined by Sumitomo Corporation in concluding an agreement that aims to reduce its energy-related greenhouse gas emissions to practically zero by 2030, and to realize a smart campus.
Concluding remarks were provided by Professor Shunichi Murata of Kwansei Gakuin University (Advisor, SDG-UP) where he higlighted Hiroshima University's distinctive features and strengths are its emphasis on the Splendor Plan 2017 as the university's vision, which focuses on SDGs Goal 16 (Peace, Justice and Strong Institutions), the philosophy of peace, and the fact that Higashihiroshima City and Sumitomo Corporation are jointly participating in the "Sustainable University Town Concept Driven by Academic Enterprise" to create an attractive city. He also stated that university evaluation is not all about the ranking itself, and that the consensus of today's discussion was to utilise the results for future university reform and organisation. He concluded the workshop by emphasising that our mission is to actively incorporate the SDGs into the characteristics and strengths of each university and to produce a large number of students who can be involved in various social contributions.
A detailed report is available in Japanese.
25 participating universities (in alphabetical order)
Ehime University
Hiroshima University
Hokkaido University
International Christian University
International University of Japan
Kanazawa University
Kwanseigakuin University
Keio Gijuku University
Kitakyushu City University
Kyushu Sangyo University
Notre Dame Seishin University
Nara University of Education
Osaka University
Osaka Medical and Pharmaceutical University
Ryukoku University
Soka University
Sophia University
Tokai University
Tokyo City University
Tokyo Institute of Technology
Tokyo University of Science
Toyo University
Tsukuba University
University of Tokyo