2021•10•09 Online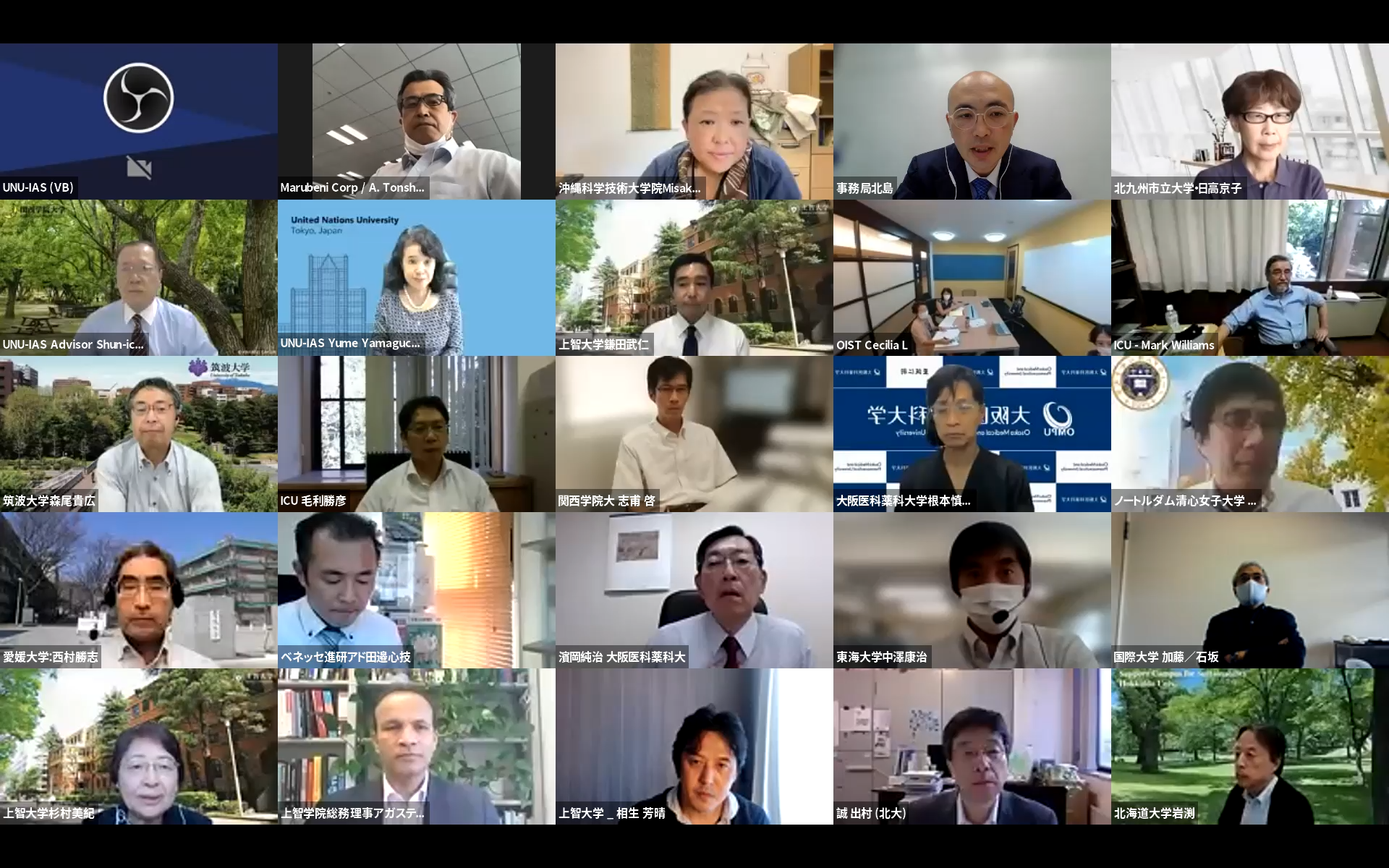 On 8 October 2021, UNU-IAS organised the 11th workshop of the SDG–Universities Platform (SDG–UP). Fifty-four participants from 25 SDG-UP participating universities joined the online event, which was the second SDG–UP Working Group Session. It comprised discussions by four working groups, following up on the previous session.
Working Group on SDGs Curriculum
In the first working group session this group had decided to create a syllabus for a general education course for first and second-year university students. Members agreed that the content of the course would emphasise action cases and theoretical explanation, and that the details of lecture videos and discussion topics would be developed. The syllabus will be finalised during the upcoming third working group meeting.
Working Group on University Evaluation and Accountability
A representative of Hokkaido University reported on its sustainability initiatives, and a participant from Sophia University reported on an analysis of the Times Higher Education (THE) Impact Ranking 2021, which compared each country with respect to SDGs on which Japan had a low score. A questionnaire on information provided to the THE Advisory Board was also discussed, with a survey to be conducted after careful examination of the contents.
Working Group on University Collaboration
A previous compilation of university case studies was analysed, and common objectives were shared in the areas of education, research, management, and collaboration. In order to reduce the gaps between SDGs-related efforts of universities and raise their overall level, it is important for advanced universities to show leadership, form networks, and share experiences. In the upcoming working group discussion an action plan will be created to guide future efforts.
Working Group on Management
A lecture delivered by a representative of Marubeni Corporation explained that the company was making progress in its sustainability efforts and striving to enhance its corporate value by anticipating environmental and social issues. Considering today's diverse and globalised business environment, universities need to nurture and produce students who are highly specialised, broadly educated, flexible, and understanding.
* * *
After the working group sessions, Shunichi Murata (SDG–UP Advisor & Professor, School of Policy Studies, Kwansei Gakuin University) stated that society expected graduates with a high level of general education who could analyse and seek solutions to complex problems, and that he would like to work with the platform to produce such human resources for society. He concluded the workshop by pointing out the importance of effectively utilising the THE Impact Ranking within each university to advance administrative and management reforms.
A detailed report of this workshop is available in Japanese.
Participating Universities
This workshop engaged 25 participating universities, which are listed below in alphabetical order.
Ehime University
Hiroshima University
Hokkaido University
International Christian University
International University of Japan
Kanazawa University
Keio Gijuku University
Kwanseigakuin University
Kyushu Sangyo University
Kyushu University
Nara Uniersity of Education
Notre Dame Seishin University
Ochanomizu University
Okinawa Institute of Science and Technology
Osaka Medical and Pharmaceutical University
Osaka Metropolitan University
Osaka University
Ryukoku University
Sophia University
Tokai University
Tokyo City University
Tokyo Institute of Technology
Toyo University
The University of Kitakyushu
University of Tsukuba