2019•11•07 Tokyo
On 29 October 2019, UNU-IAS held an event as part of the global campaign for International Day for Disaster Reduction 2019, which seeks to promote a culture of disaster reduction, including disaster prevention, mitigation, and preparedness. Featuring experts from Japan and ASEAN countries, the event explored the need for resilient critical infrastructure as part of broader disaster risk reduction (DRR) strategies.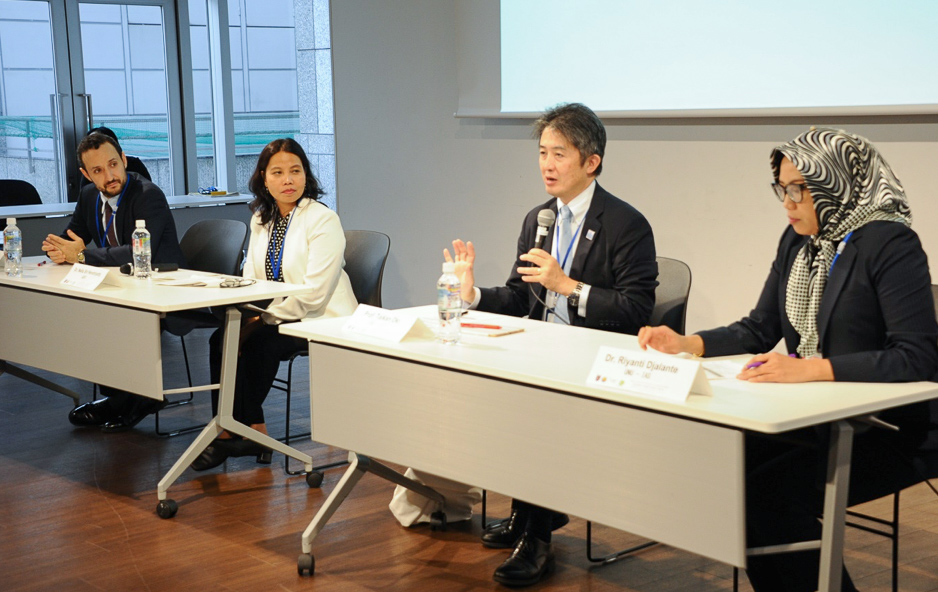 Three keynote presentations were delivered, the first by Taikan Oki (Senior Vice-Rector, UNU; UN Assistant Secretary-General) on DRR-Resilient Infrastructure and the SDGs. A video message from Naoyuki Yoshino (Dean, Asian Development Bank Institute) focused on sustainable infrastructure financing and insurance for DRR, and Jared Mercadante (DRM Specialist, GFDRR, World Bank) presented on the World Bank Resilient Infrastructure Programme.
The event also featured presentations from participants of a training programme for ASEAN disaster managers conducted by UNU-IAS. Participants of the programme from all 10 ASEAN countries presented on disaster management in their home countries.
Discussion focused on how resilient infrastructure could be achieved, as well as the sources of financing for reducing disaster risks, and prioritisation of risk financing. Closing remarks were delivered by Shinobu Yume Yamaguchi (Director-designate, UNU-IAS).
Background
The UN General Assembly has designated 13 October as International Day for Disaster Reduction to promote a global culture of disaster reduction, including disaster prevention, mitigation and preparedness. It is an opportunity to acknowledge the progress being made toward reducing disaster risk and losses in lives, livelihoods and health. Such an outcome is the aim of the Sendai Framework for Disaster Risk Reduction 2015–2030 adopted at the Third UN World Conference on Disaster Risk Reduction in Japan in March 2015. The Sendai Framework has seven strategic targets and 38 indicators for measuring progress on reducing disaster losses. These indicators align implementation of the Sendai Framework with implementation of the SDGs and the Paris Agreement on climate change. The 2019 topic is target (d): "Substantially reduce disaster damage to critical infrastructure and disruption of basic services, among them health and education facilities, including through developing their resilience by 2030;".
The main objectives of the IDDR are to:
Promote and encourage events at national and community level to mark implementation of the Sendai Framework with a focus on target (d);
Highlight the impact of resilient critical infrastructure on human safety and well-being notably in the education and health spheres;
Partner with the insurance industry to highlight what goes wrong with critical infrastructure when it is not risk informed; and
Highlight global analysis of the state of critical infrastructure.