2022•05•18 Barcelona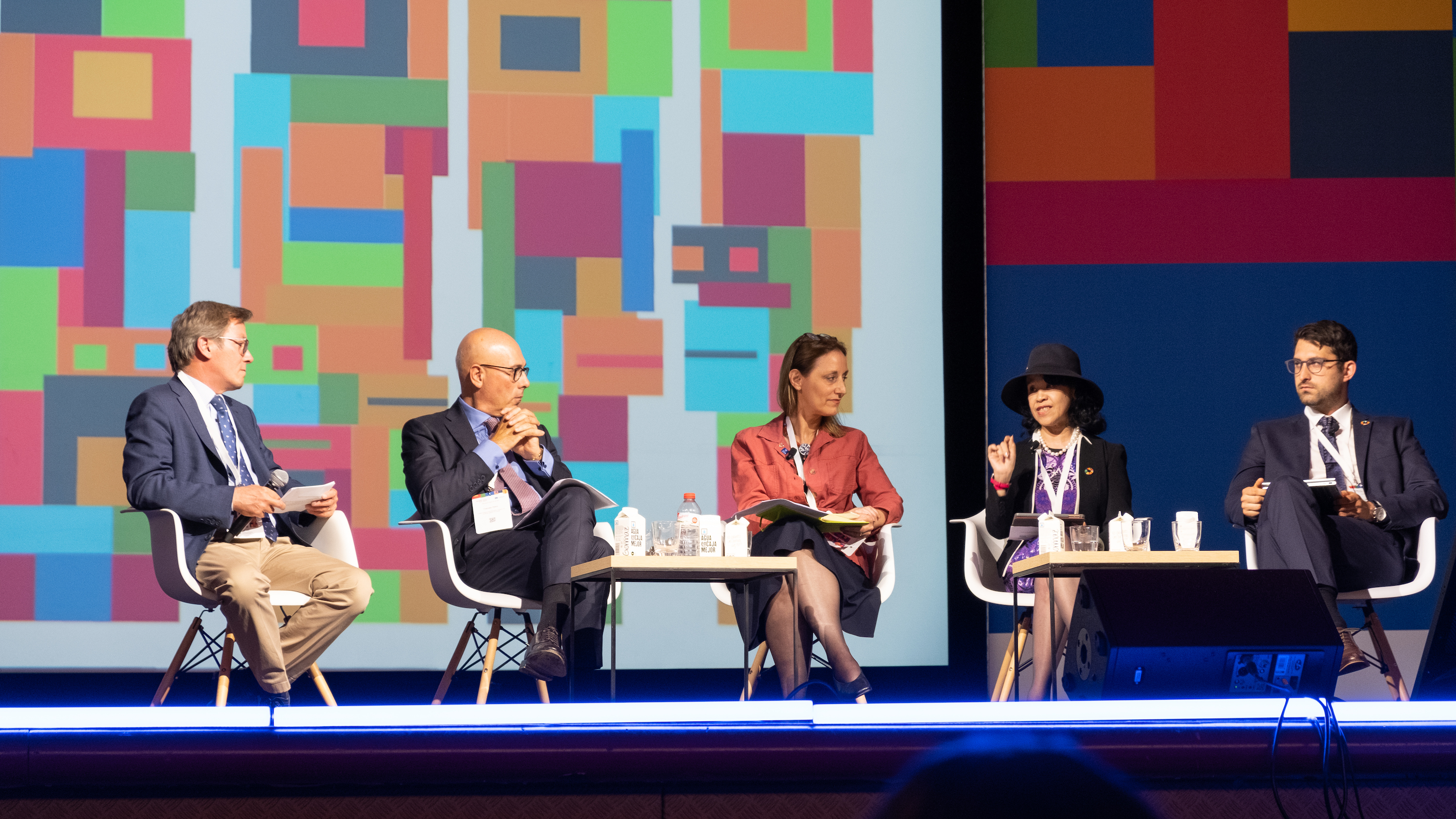 On 18 May 2022, Shinobu Yume Yamaguchi (Director, UNU-IAS) spoke on the role of higher education in the 2030 Agenda for Sustainable Development and beyond, as part of a roundtable session at the UNESCO World Higher Education Conference 2022 in Barcelona. The session, on the topic "Reimagining the Futures of Higher Education", explored the role of higher education within a new social contract for education.
The roundtable focused on implications of the UNESCO report Reimagining Our Futures Together: A New Social Contract for Education for higher education. Published in November 2021, the report guides the transformation of education for peaceful, just, and sustainable futures for all. UNU-IAS contributed to a global consultation process that engaged over a million people, as a member of the report's Advisory Board.
The session was opened by Stefania Giannini (Assistant Director-General for Education, UNESCO), who underlined that higher education was part of the critical concept of the right to education, and needed to be more inclusive. In a video address H.E. Sahle-Work Zewde (President, Federal Democratic Republic of Ethiopia) emphasised that knowledge and learning were the basis for the transformation to sustainable futures, which would require our most creative capacities.
António Nóvoa (Honorary Rector and Professor of Education, University of Lisbon) delivered a keynote speech highlighting the report's key messages. He stressed the immense responsibility of the higher education sector and the need for diverse approaches — as the greatest risk for universities is being unable to take risks. Prof Nóvoa called for courage and boldness in responding to the report's invitation to rethink and reimagine.
A panel discussion moderated by Sobhi Tawil (Director, Future of Learning and Innovation, UNESCO) considered the transformation of higher education as part of the new social contract. Hilligje Van't Land (Secretary-General, International Association of Universities) underscored that universities should be open and inclusive, and had a unique opportunity to engage citizens. Prof Yamaguchi stressed the unique ability of higher education to bridge efforts on different SDGs, through collaborative research and education. She drew attention to two innovative initiatives of UNU-IAS — a joint curriculum on disaster education developed and implemented with five universities in the Asia-Pacific region, and the new postgraduate degree specialisation focused on the Paris Agreement on climate change, to be launched in Autumn 2023. Sebastian Berger (Executive Director, Global Student Forum) noted that education for sustainable development (ESD) was needed at all levels of education, and urged universities to democratise their governance and reduce their own emissions.
Francesc Pedro (Director, UNESCO International Institute for Higher Education in Latin America and the Caribbean) moderated a second panel discussion that focused on the process of thinking about futures of higher education. Keri Facer (Professor of Educational & Social Futures, University of Bristol) called for reflection on the changes needed and inclusion of diverse perspectives, encouraging experimentation. Mpine Makoe (Dean, College of Education, University of South Africa) focused on the way in which we create different futures, encouraging systematic thinking. Dzulkifli Abdul Razak (Rector, International Islamic University Malaysia) stressed the need to start with individuals to create a culture of collaboration, and explore the past to learn from traditional sustainable practices.
Discussion with participants explored links between higher education and other levels of education, and how universities could work with communities. It highlighted the Regional Centres of Expertise (RCEs) on ESD, a global network that brings together local stakeholders.
In closing remarks Dr Giannini underlined the value of the Futures of Education report as a living document — an ongoing process to regenerate education and ultimately regenerate society.