2019•11•28 Tokyo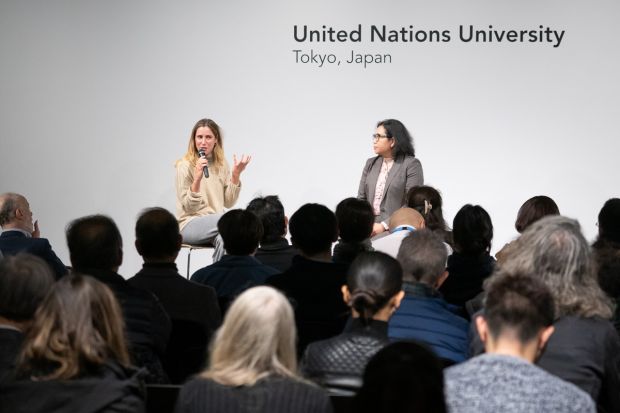 A film screening and expert talk on 22 November 2019 explored the links between climate change and migration, focusing on the challenges facing affected people and communities. Organised by UNU and UNU-IAS, the event featured a screening of the documentary film The Climate Limbo, which highlights the human consequences of climate change and environment-driven migration.
The event opened with an overview of climate change issues by Riyanti Djalante (Academic Programme Officer, UNU-IAS), a lead author of the Intergovernmental Panel on Climate Change (IPCC) report on Global Warming of 1.5°C. Her presentation emphasised the deep impacts of climate change on natural and human systems, including increased risk of climate fragility, conflict, displacement, and social unrest. "Global warming of 1°C means that the earth has a high fever and needs emergency treatment. We cannot let it get sicker with even higher global warming", said Dr. Djalante.
Following a screening of The Climate Limbo, the film's director Elena Brunello joined Dr. Djalante in a discussion, answering questions from the audience. Topics included the potential of environmental education and the increased interest of younger generations in environmental issues, as well as the creative approach of the film in featuring different interviewees. Participants also discussed both direct and indirect impacts of climate change and conflict on the displacement of people.
The event demonstrated the importance of collaboration between scientists and artists to make climate-related issues more accessible through relatable stories and realities.