2018•08•08 Tokyo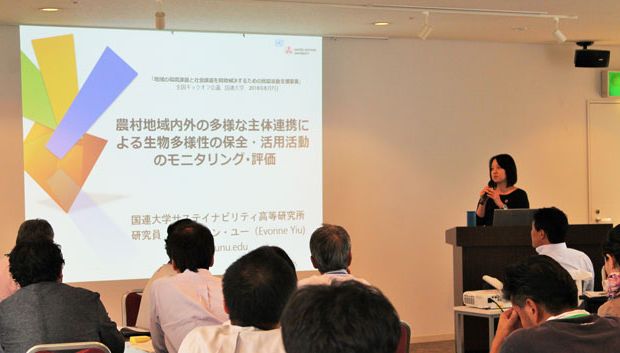 On 7 August, UNU-IAS and the Global Environmental Outreach Centre (GEOC) co-organized a Workshop on Linking and Integrating the SDGs into Community-based Projects at UNU Headquarters. The purpose of the workshop was to bring together local practitioners across Japan to discuss how to include the SDGs effectively in developing solutions to local issues. This event served as a kick-off for two years of planned community-based projects, and participants discussed ways to strengthen collaboration and accelerate progress with a wide range of stakeholders.
Evonne Yiu, UNU-IAS Research Associate, presented a case study from the UNU-IAS research project Monitoring and Evaluation Method for Biodiversity Conservation and Sustainable Use through Multi-stakeholders Governance. She explained the effectiveness of monitoring and evaluation cycles in promoting projects by mentioning the concept of Results-Based Management. She also introduced resilience indicators in SEPLS (Socio-ecological Production Landscapes and Seascapes) as a good example of indicators to capture ecological, agricultural, cultural and socio-economic dimensions based on observations of communities and sharing different ideas regardless of gender, age, or occupation. She highlighted the importance of a strategized multi-stakeholder partnerships and governance approach.
Following her presentation, members of eight different community-based organizations presented the outlines and objectives of each project, and active feedback sessions were held.