2017•07•11 Tokyo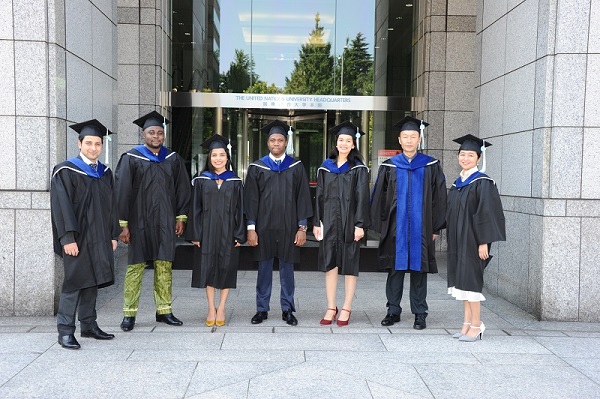 On 10 July, one Ph.D. student and seven Master's students graduated with degrees from UNU-IAS. This year's graduates, three women and three men, come from Bhutan, the Phillippines, Nepal, Zambia, Sri Lanka, India, and Cameroon.  At the graduation ceremony, UNU Rector David M. Malone, UNU Senior Vice-Rector Taikan Oki, and UNU-IAS Director Kazuhiko Takemoto delivered the remarks to the graduates and assembled guests, followed by a special lecture from Keisuke Hanaki, a professor from Toyo University. Two of the new graduates, Singay Dorji and Thilini Upeksha Nuwanthika Kaluarachchi, also gave speeches on behalf of the 2017 graduates.
The UNU-IAS Graduate Programme was launched in 2014. UNU-IAS believes that the graduates, regardless of where they are based, will serve as future global leaders, advancing creative solutions to issues of sustainability.
UNU-IAS congratulates the graduates on their achievements and looks forward to hearing about their future endeavours.