2017•07•11 Tokyo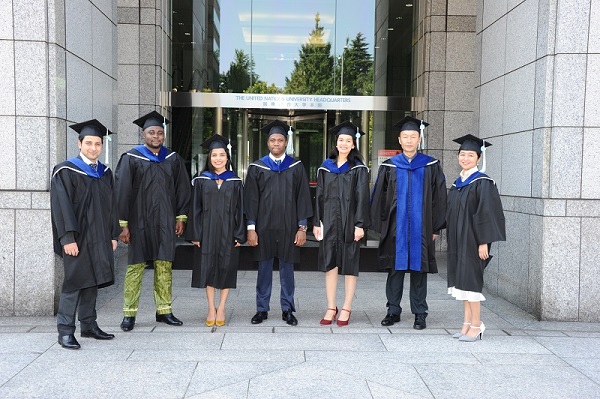 On 10 July, one Ph.D. student and seven Master's students graduated with degrees from UNU-IAS. This year's eight graduates come from Bhutan, the Phillippines, Nepal, Zambia, Sri Lanka, India, and Cameroon.  At the graduation ceremony, UNU Rector David M. Malone, UNU Senior Vice-Rector Taikan Oki, and UNU-IAS Director Kazuhiko Takemoto delivered the remarks to the graduates and assembled guests, followed by a special lecture from Keisuke Hanaki, a professor from Toyo University. Two of the new graduates, Singay Dorji and Thilini Upeksha Nuwanthika Kaluarachchi, also gave speeches on behalf of the 2017 graduates.
The UNU-IAS postgraduate degree programmes develop future global leaders, who will make important contributions to the international community by advancing creative solutions to issues of sustainability.
UNU-IAS congratulates the graduates on their achievements and looks forward to hearing about their future endeavours.