2019•08•01 Tokyo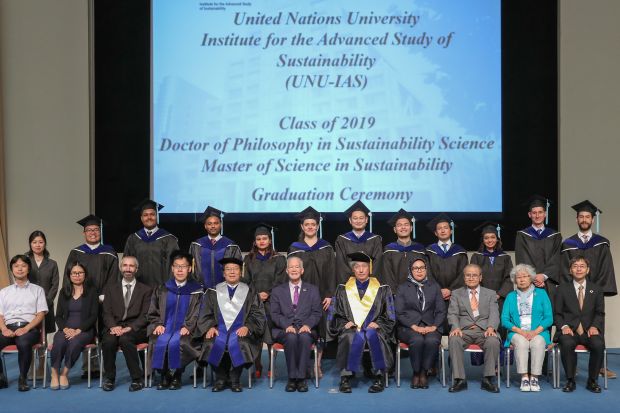 On 23 July 2019, one Ph.D. student and ten MSc students graduated with degrees from UNU-IAS. This year's eleven graduates come from Bhutan, Brazil, Colombia, Ethiopia, Mexico, Nepal, the Philippines, Trinidad & Tobago, and the United Kingdom. At the graduation ceremony, David M. Malone (Rector, UNU) and Kazuhiko Takemoto (Director, UNU-IAS) delivered remarks to the graduates and assembled guests, followed by a special lecture from Kiichi Fujiwara (Professor, University of Tokyo). Osamu Saito (Academic Director, UNU-IAS) gave a brief report on the PhD and MSc Programmes. Three of the new graduates, Denabo Billo Juju, Meghana Shukla, and Elson Ian Nyl Ebreo Galang, also gave speeches on behalf of the 2019 graduates.
The UNU-IAS postgraduate degree programmes develop future global leaders, who will make important contributions to the international community by advancing creative solutions to issues of sustainability.
UNU-IAS congratulates the graduates on their achievements and looks forward to hearing about their future endeavours.