2018•07•23 New York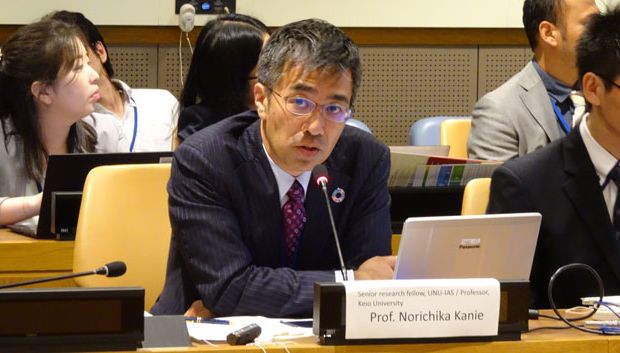 On 17 July 2018, UNU-IAS, jointly with the Government of Japan, UNESCAP, the Institute for Global Environmental Strategies (IGES), and Keio University SFC, co-organized a side event at the United Nations High Level Political Forum on Sustainable Development (HLPF) entitled Toward Sustainable Cities in Asia-Pacific. The event focused specifically on Sustainable Development Goal (SDG) 11 (Sustainable Cities and Communities), taking into account the environmental challenges faced by cities in Asia and the Pacific.
In his opening remarks, Yasuo Takahashi, Vice Minister for Global Environmental Affairs, Ministry of the Environment Japan stressed the importance of building international multi-stakeholder partnerships and sharing best practices to achieve SDG 11. Rafael Tuts, Director of Programme Division, UN-HABITAT, added that it is critical to promote national government policies and local authorities' initiatives supporting the localization of the SDGs to ensure the successful implementation of the urban dimensions of the SDGs.
In his keynote speech, Norichika Kanie, Professor at Keio University and Senior Research Fellow at UNU-IAS, also emphasized that local actions are linked to the success of national and global efforts. He underlined key factors to achieving the SDGs, including a common language for peer learning and scaling up actions, action coherency with all the SDGs and among all levels of governance, localised and translatable policies and indicators, and active participation of the business sector.
In a panel discussion moderated by UNU-IAS Director Kazuhiko Takemoto, Naoyuki Okamoto from the Cabinet Office of Japan shared regional revitalization efforts driven by the SDGs to develop communities that are resilient and environment-friendly. He also introduced the SDGs FutureCity initiative, a local SDGs model programme in Japan that aims to create a synergistic effect through comprehensive actions targeting the economy, society, and environment. Katinka Weinberger of UNESCAP, referring to the Guidelines for Multi-Stakeholder SDG Partnerships jointly developed by UNU-IAS and UNESCAP, highlighted the need to build robust partnerships and to strengthen ownership, commitment, and accountability to empower local communities in order to attain balanced and sustainable urban development.
The side event showcased the increasingly important roles that cities and local authorities have taken in Asia and the Pacific in the efforts towards achieving the SDGs and acknowledged the need to take continued concrete steps to strengthen region-wide cooperation.
The 2018 meeting of the HLPF, under the auspices of the UN Economic and Social Council (ECOSOC), convened from 9-18 July 2018, at UN Headquarters in New York. The forum is the central platform to follow up and review the 2030 Agenda for Sustainable Development at the global level.