2018•11•15 Tokyo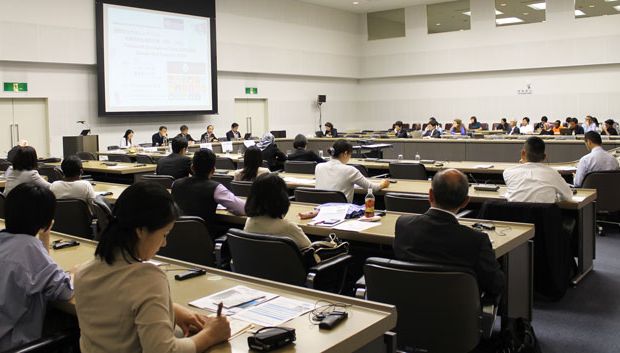 On 12 October 2018, UNU-IAS and the UNISDR Office in Japan co-organized a symposium to commemorate the International Day for Disaster Reduction 2018 under the theme of The SDGs and Disaster Risk Reduction: Reducing economic loss of disasters (Target c of the Sendai Framework).
Following opening remarks by UNU-IAS Director Prof. Kazuhiko Takemoto and Head of UNISDR Office in Japan Dr. Yuki Matsuoka, Prof. Taikan Oki, Senior Vice-Rector of UNU, gave a keynote presentation on SDGs and Disaster Risk Management. Prof. Oki's discussion focused on the impacts of natural hazards and failure to deal with climate change as outlined in the World Economic Forum Global Risk Report 2018, and how disaster risks are considered within the SDGs, mainly 1, 11 and 13.
The second keynote speaker Mr. Kimio Takeya, Distinguished Technical Advisor to the President of JICA, discussed the Sendai Framework for Disaster Risk Reduction 2015-2030. Mr. Takeya stressed that investment in disaster risk reduction (DRR) is critical and that a road map for DRR should be carefully developed from the perspective of types of risks, national capacity and resilience, by presenting eight steps for developing local DRR plans.
After the keynote speeches, various cases on DRR were introduced from global, national and subnational perspectives. Mr. Akira Takahashi, Senior Director, Disaster-Resilient and Environmentally-progressive City Promotion Office of the Sendai City Planning Policy Bureau, stressed the importance of tsunami countermeasures to reduce economic loss, and also recovery approaches which bring added value to local communities.
Dr. Riyanti Djalante, Academic Programme Officer at UNU-IAS, explained how geophysical catastrophes, mainly earthquake and tsunamis, cause the most economic loss per disaster event while climatic disasters such as floods and droughts occur more frequently and affect many more people. Dr. Djalante pointed out that, by region, Asia is impacted the most. She stressed that an integrated approach for DRR and climate change adaptation is necessary. Innovative insurance schemes at the regional, local and micro level are needed to increase affordability and accessibility and protect the most vulnerable communities.
Ms. Noyuri Suetsugu, Assistant Director of the Biodiversity Strategy Office, Ministry of the Environment Japan, introduced the concept of Eco-DRR and emphasized the importance of implementing Eco-DRR measures with consideration of artificial structures.
The second part of the event was comprised of a panel discussion moderated by Dr. Matsuoka of UNISDR. In addition to Mr. Takeya from JICA and Mr. Takahashi from Sendai City, members from business (Mr. Masato Takamatsu, JTB Tourism Research and Consulting Co.) and an NGO (Mr. Takeshi Komino, Church World Service Japan) joined the panel discussion. Issues discussed included the effects of disasters on global tourism, localization of DRR strategies and plans to reflect local needs and conditions, and the importance of risk consideration for private sector investment, strengthening disaster preparedness and supporting economic recovery and livelihoods following disasters.
Dr. Matsuoka of UNISDR reiterated key messages from UN Secretary-General Antonio Guterres and Ms. Mami Mizutori, Special Representative of the United Nations Secretary-General for Disaster Risk Reduction and Head of UNISDR on the concept of Resilience for All. She noted that since disasters cost billions of dollars and affect the poorest countries and exacerbate poverty, development needs to be risk-informed to be sustainable and that reducing human cost and economic losses from disasters can transform lives.