2018•10•02 Kanazawa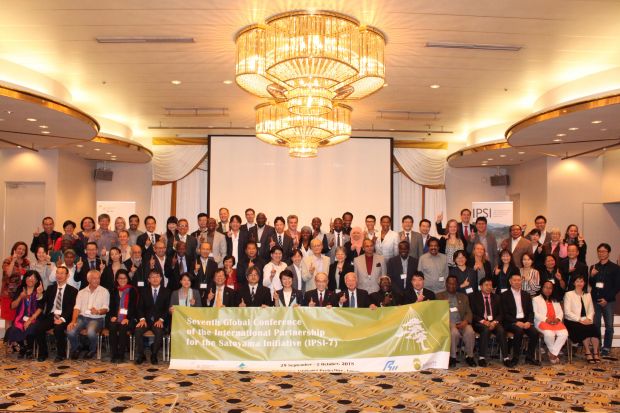 The Seventh International Partnership for the Satoyama Initiative Global Conference (IPSI-7) was held from 29 September to 2 October 2018 in Kanazawa, Ishikawa Prefecture, Japan. The Conference was organized by the IPSI Secretariat at UNU-IAS and the Ministry of the Environment, Japan, and was hosted by the Ishikawa Prefectural Government.
The IPSI-7 conference consisted of two main events: a meeting of the IPSI General Assembly and a public forum. The public forum was open to the general public, held on Sunday 30 September 2018. The public forum is an opportunity for non-members to learn about IPSI and its activities as well as a venue for discussion of various topics related to socio-ecological production landscapes and seascapes (SEPLS), their revitalization and sustainable management. The theme of this year's public forum was "Assessing the Satoyama Initiative's Contributions towards Achieving the Aichi Biodiversity Targets and Sustainable Development Goals". Experts from within Japan and around the world were invited to share a wide range of knowledge on the Satoyama Initiative and related processes including assessment processes under the Intergovernmental Science-Policy Platform on Biodiversity and Ecosystem Services (IPBES).
The General Assembly was held on Monday 1 October, open to IPSI members. The programme included information sharing and decisions regarding the future direction of IPSI, with working group sessions held for in-depth discussion of ongoing and potential contributions to the Convention on Biological Diversity Strategic Plan for Biodiversity 2011-2020 with its Aichi Biodiversity Targets, the United Nations Sustainable Development Goals, and others.
On Tuesday 2 October, participants took part in an excursion to the Noto Peninsula to get a first-hand look at Japan's satoyama and satoumi landscapes and seascapes, hosted by the Ishikawa Prefectural Government with significant support from the UNU-IAS Operating Unit Ishikawa/Kanazawa (OUIK).
***
The event is part of the activities conducted by the International Satoyama Initiative (ISI), a UNU-IAS project working towards creation of societies in harmony with nature, through promoting the maintenance and rebuilding of SEPLS for the benefit of biodiversity and human wellbeing.