2020•11•20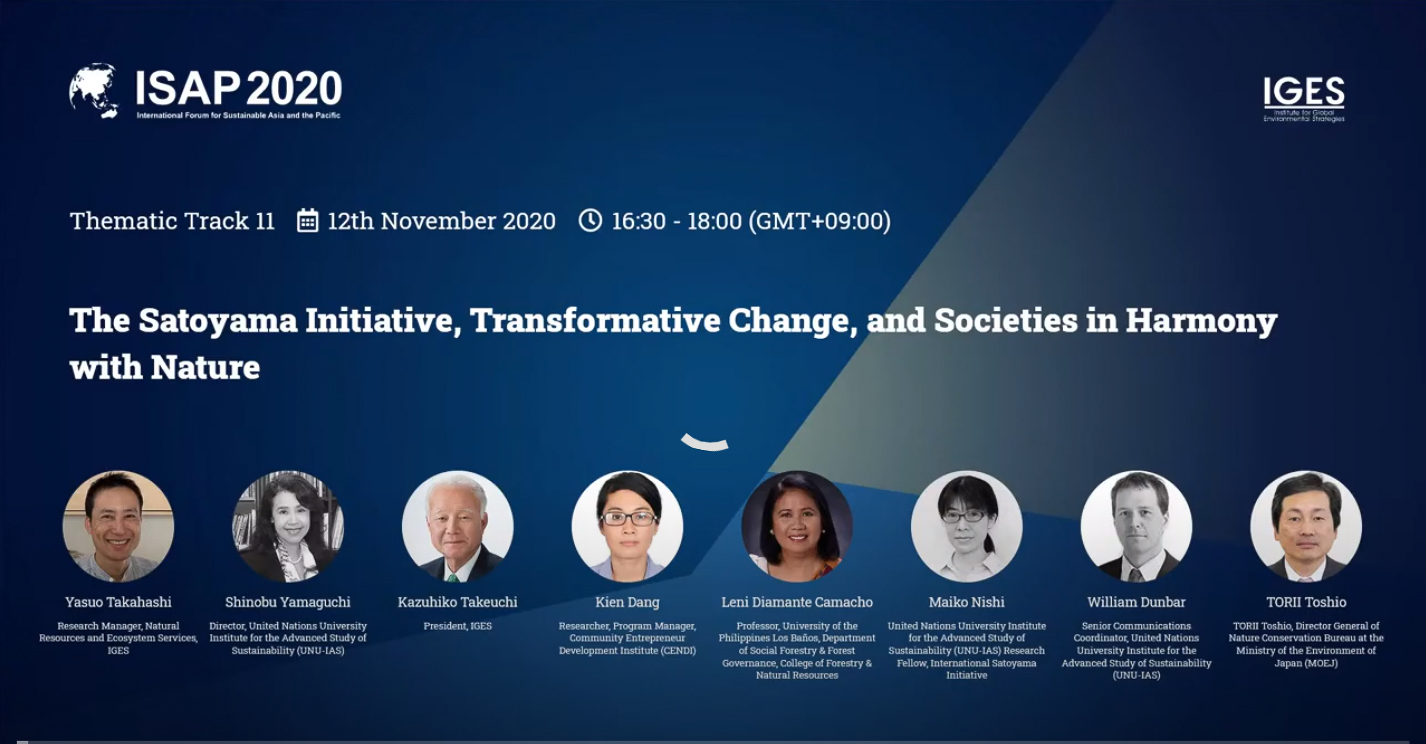 On 12 November 2020, an online session on "The Satoyama Initiative, transformative change, and societies in harmony with nature" was held as a Thematic Track Session of the International Forum for Sustainable Asia and the Pacific (ISAP) 2020. The session addressed how the concept of socio-ecological production landscapes and seascapes, as promoted under the Satoyama Initiative, can contribute to transformative change towards the vision of "societies in harmony with nature", particularly considering impending new realities in the post-COVID-19 era. The session was co-organised by UNU-IAS and the Institute for Global Environmental Strategies (IGES), with support of the Ministry of the Environment, Japan (MOEJ).
Shinobu Yume Yamaguchi (Director, UNU-IAS) gave opening remarks at the session, followed by a keynote presentation by Kazuhiko Takeuchi (Senior Visiting Professor, UNU-IAS; President, IGES). After presentations by members of the International Partnership for the Satoyama Initiative (IPSI) Kien To Dang (Programme Manager, CENDI Vietnam) and Leni Camacho (Professor, University of the Philippines Los Baños), Maiko Nishi (Research Fellow, UNU-IAS) delivered a presentation on "Lessons learned from managing SEPLS and their implications for transformative change in the post-COVID-19 era", and William Dunbar (Senior Communications Coordinator, UNU-IAS) moderated discussion to consolidate lessons on the SEPLS concept and its relevance for the post-COVID-19 era, as well as implications for the post-2020 Global Biodiversity Framework. Closing remarks were given by Toshio Torii (Director General of Nature Conservation Bureau, Ministry of the Environment of Japan), while the event was moderated by Yasuo Takahashi (Research Manager, IGES).
More details, including a full video stream of the event, can be found on the ISAP 2020 website here.