2018•03•23 Tokyo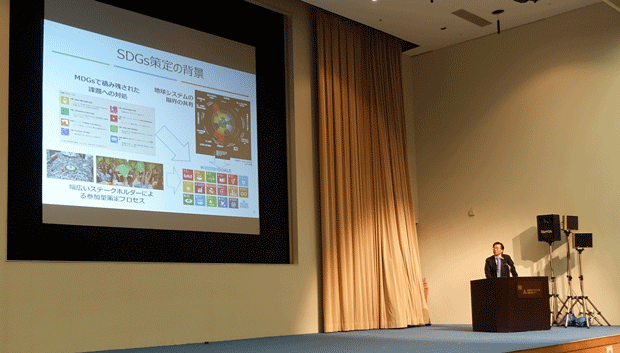 On 20 March 2018, UNU-IAS co-organized the Japan UNEP Forum 2018, together with United Nations Environment Programme (UNEP) and the Japan Association for UNEP.
The forum aimed to deepen the understanding of various environment-related activities being conducted by UN organizations and also to facilitate multi-stakeholder partnerships among the private sector, environmental organizations, and the public.
At the forum, UNU-IAS Director Kazuhiko Takemoto gave a presentation on UNU-IAS commitment to achieve the SDGs through research activities in three thematic areas: sustainable societies, natural capital and biodiversity, and global change and resilience.
A panel discussion focused on SDGs and Sustainable Consumption and Production (SCP), the Role of Business in Creating Shared Value (CSV), the UNEP Finance Initiative, and ethical consumption. The panelists highlighted new trends in sustainable investing and addressed the importance of the role of companies and consumers in ethical consumption. The forum closed by addressing the importance of collaborative actions among various sectors to achieve the SDGs and stressed the importance of the role of international organizations, including UNU and UNEP, in advancing such partnerships for collaboration.