2021•02•08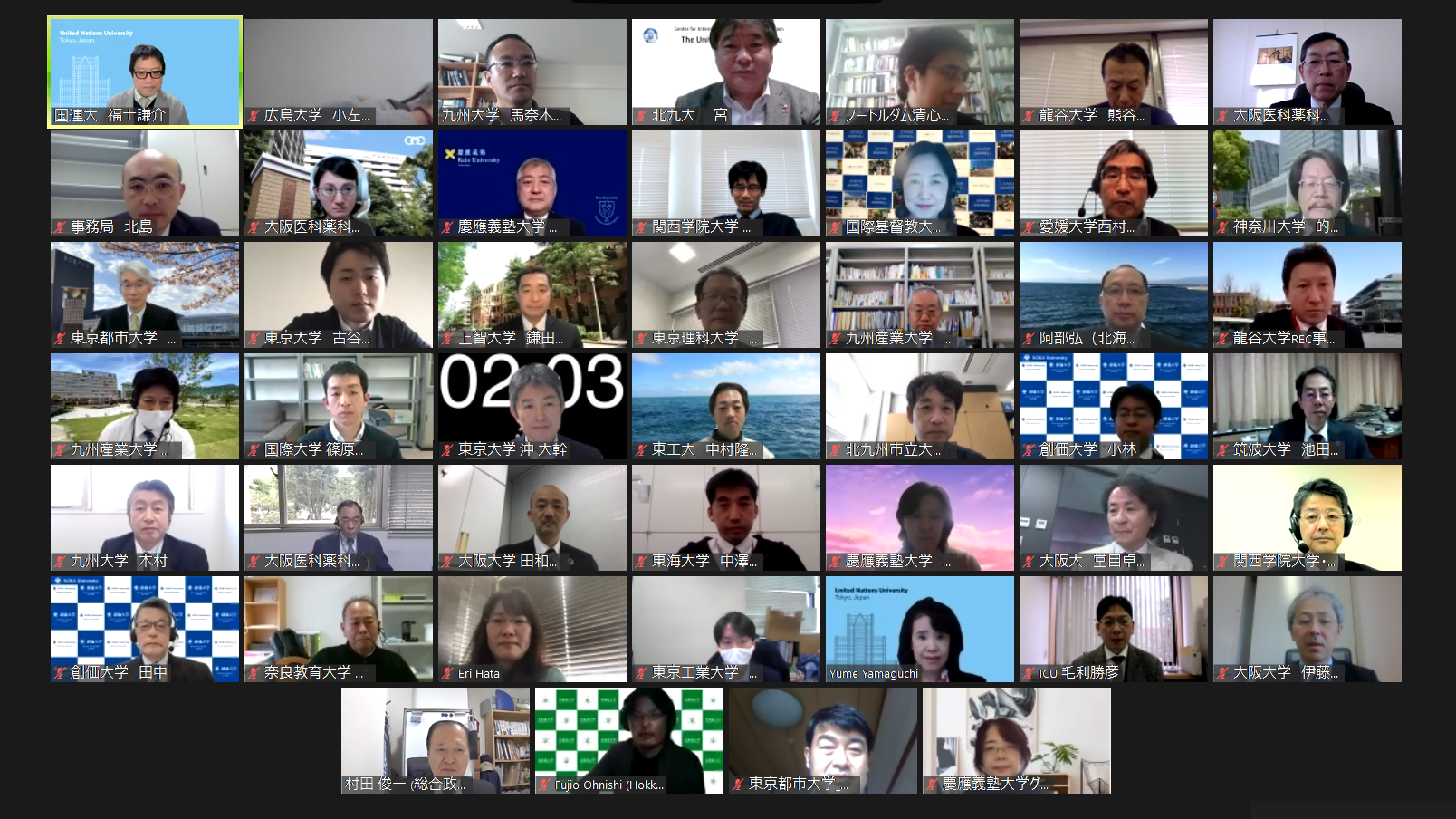 UNU-IAS organised the fourth workshop for the UNU SDG–University Platform (SDG-UP) on 27 January 2021 through videoconferencing. There were 71 participants from 28 universities across Japan. During the opening remarks, Shinobu Yume Yamaguchi (Director, UNU-IAS) expressed her expectation of presentations related to the SDGs of participating universities. She emphasised that SDGs-related matters such as global environmental issues, promotion of sustainable society, and sustainable finance are urgent issues in the international community. Thus, this platform is truly a timely effort, and the role of promoting the SDGs in higher education will become increasingly important in the future.
The session featured presentations from fifteen universities about their SDGs activities. The specific efforts are summarised below.
As an initiative in the education curriculum, SDGs introductory courses were established and are offered as practical courses for all students. The SDGs promotion headquarters was established, and the president of the university became the leader of the headquarters to oversee various SDGs-related initiatives. An educational program was created in collaboration with the United Nations and international organizations, and in the program, students worked for SDGs related activities in the status of UN staff. In cooperation with companies, a venture company was created on campus based on SDGs to supply electricity to non-electrified areas. A website dedicated to the SDGs was launched to introduce efforts of the SDGs and widely disseminated them in society.
(※Details of each university's efforts will be described separately.)
Shunichi Murata (SDG-UP Advisor & Professor, School of Policy Studies, Kwansei Gakuin University) emphasised that in order to achieve the SDGs, four areas such as environment, economic growth, society, and governance, need to be integrated in a well-balanced manner to solve problems. He made note that the most important theme of the SDGs, Goal 1 "No Poverty" was not mentioned a lot in the presentations as a university initiative. He highlighted that since there are more than 1 billion people in poverty at home and abroad under the current COVID19 crisis, it is necessary to promote SDGs-related research and human resource development. He stressed to correct the economic development-oriented measures which created the large inequality and to not increase the number of poor people anymore. In order to promote balanced economic development, it is important to provide young people with high-quality education and diverse opportunities under the responsibility of scholars and educators. Finally, he emphasised that while sharing experiences among the participating universities of this platform, he would hope to create a platform that also functions as a think tank in pursuit of fusion of SDGs and expertise as well as high-quality education.
28 participating universities (in alphabetical order)
Aoyama Gakuin University
Chiba University of Commerce
Ehime University
Hiroshima University
Hokkaido University
International Christian University
International University of Japan
Kanagawa University
Kanazawa University
Kwanseigakuin University
Keio Gijuku University
Kitakyushu City University
Kyushu Sangyo University
Notre Dame Seishin University
Nara University of Education
Osaka University
Osaka Medical and Pharmaceutical University
Ryukoku University
Soka University
Sophia University
Tokai University
Tokyo City University
Tokyo Institute of Technology
Tokyo University of Foreign Studies