2017•10•26 Tokyo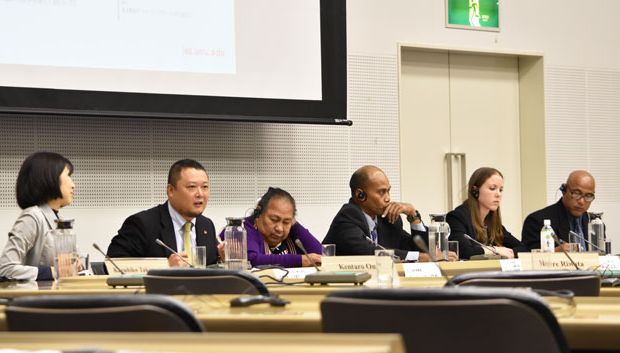 On 20 October, UNU-IAS and GEOC hosted an international symposium on Achieving SDG 13: Climate Change & the Republic of Kiribati to raise awareness of global climate change and its impacts on the people and the very existence of Kiribati. The event offered explanation of how low-carbon technology transfer can help to tackle climate change.
During the symposium, Mr. Kentaro Ono, Advisor to Ambassador at the Honorary Consulate-General of the Republic of Kiribati in Japan; Mrs. Meere Riwata, President of the Kiribati Climate Action Network (KiriCAN); and Mr. Kireua Bureimoa, Director of the Energy Unit of the Kiribati Ministry of Infrastructure and Sustainable Energy, presented an overview of Kiribati, the various climate change impacts occurring there, and the country's efforts for mitigation. Dr. Lisanne Groen, a JSPS-UNU Postdoctoral Fellow at UNU-IAS, also spoke about the low-carbon technology transfer (LCT) related activity taking place in Japan and the UNU-IAS LCT project.
During a panel discussion, Mr. Toaki Arinoko, Executive Member of KiriCAN, joined the presenters to discussed possible actions on climate change adaptation and mitigation from various angles, including the role of the private sector and women in addressing the climate change issues of Kiribati, best practices, and the importance of effective and integrated climate action to be taken at the United Nations Climate Change Conference next month in Bonn, Germany.
Mr. Ono concluded the discussion with a strong message: "Please do not consider the pressing issue that we are facing in Kiribati is not your business. We do not want to consider mitigation or seek solutions to the issues based on the premise that Kiribati will disappear in the future. We want to die in our country, Kiribati."