2018•01•19 Tokyo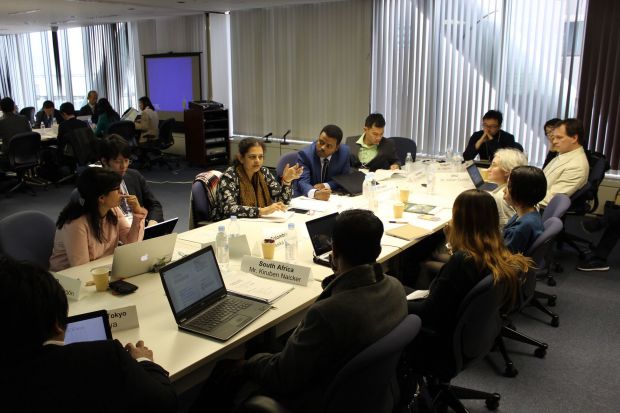 On 16 and 17 January 2018, UNU-IAS and The University of Tokyo's Integrated Research System for Sustainability Science (UTIR3S) co-organized an international workshop entitled Mainstreaming Biodiversity in Production Landscapes: Integrated Approaches in Design and Implementation of National Biodiversity Strategies and Action Plans (NBSAPs).
NBSAPs are the major national-level biodiversity policy instruments required of all Party governments to the Convention on Biological Diversity (CBD); and this workshop was part of a joint research project on development and implementation of NBSAPs, with a specific focus on incorporating integrated landscape management approaches to help CBD Parties achieve their biodiversity goals and fulfill their international commitments. Representatives from the governments of Cambodia, Colombia, Ethiopia, Estonia, Japan, Mexico and South Africa– countries identified for their inclusion of integrated landscape management in their NBSAPs– got together to present their national policies and discuss policy processes, challenges and opportunities, along with experts from UNU-IAS, The University of Tokyo, the CBD Secretariat and others. Despite the diverse circumstances and experiences of the different countries, participants were pleasantly surprised to find much common ground in many landscape-oriented projects, ranging from Mexico's work in the Mesoamerican Biological Corridor to the International Partnership for the Satoyama Initiative (IPSI), of which several of the countries are members and UNU-IAS serves as secretariat.
Workshop outcomes are currently being compiled and will be published in the final report of the research project, with plans to submit key findings to the CBD at the second meeting of its Subsidiary Body on Implementation (SBI-2) in July 2018.