2016•07•27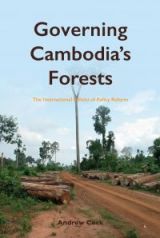 A new monograph Governing Cambodia's Forests: The International Politics of Policy Reform by Dr. Andrew Cock (Research Associate, UNU-IAS) has been published by the Nordic Institute of Asian Studies Press, Copenhagen.
The widespread destruction of Cambodia's forests in recent decades saw the loss of the last major area of pristine tropical forest in the region. The proceeds of often indiscriminate logging and the sale of forest and plantation concessions have enriched the country's ruling elite, but at great cost to its rural population. It was, moreover, a process in which foreign aid donors were deeply involved, even if the outcome was contrary to their intentions.
This book analyses how external reform agendas can be manipulated by domestic elites, and critiques ideas of "ownership" in relation to foreign aid provision. It offers a clear and persuasive argument as to why forestry protection programmes so often fail in the international system.
Through a detailed case study, this book provides the following:
An examination of the loss of the last major area of pristine forest in Southeast Asia.
An important contribution to the literature on aid donor–government interactions and the way these impinge upon the poor.
A comprehensive understanding of the politics of forestry and foreign aid.
Tropical forest preservation is central to both meeting the goals of the 2015 Paris Agreement on Climate Change and the 2030 Agenda on Sustainable Development. This volume both dissects the governance challenges in foreign aid directed towards the forestry sector and offers policymakers a way forward. It highlights the central role that communities living in and around forest areas may play as local agents of the global common good, given the right incentives and careful insulation from the forces of globalization.
For more information on the book and the "Governance for Sustainable Development (GSD)" project with which the author is engaged, please visit the GSD project website, or contact Andrew Cock (Andrew.Cock@unu.edu).