2022•09•12 Tokyo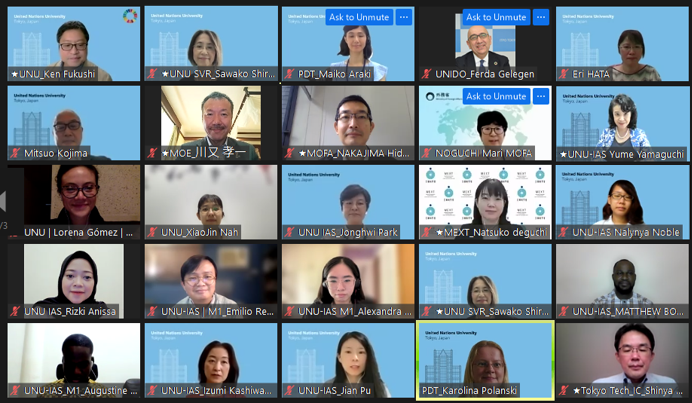 On 1 September 2022 UNU-IAS welcomed nine Master of Science in Sustainability students and two PhD in Sustainability Science students from seven different countries in an online ceremony inaugurating academic year 2022-23. The event also marked the start of the UNU-IAS Intensive Core courses (IC) conducted 1–29 September 2022.
Shinobu Yume Yamaguchi (Director, UNU-IAS), David M. Malone (Rector, UNU), and Sawako Shirahase (Vice-Rector, UNU) welcomed the new students. Guest speakers Hideto Nakajima (Director, Multilateral Cultural Cooperation Division, Ministry of Foreign Affairs of Japan), Natsuko Deguchi (Director, Office of International Cooperation Planning, International Affairs Division, Ministry of Education, Culture, Sports, Science and Technology, Japan), and Kotaro Kawamata (Director, International Strategy Division, Global Environment Bureau, Ministry of the Environment, Japan) delivered congratulatory remarks. Hideaki Shiroyama (Professor, University of Tokyo), Kensuke Fukushi (Academic Programme Officer, UNU-IAS), and Shinya Hanaoka (Professor, Tokyo Institute of Technology) provided short introductions to the Intensive Courses.
The new student cohort will be studying and researching different aspects of sustainability in four UNU-IAS thematic areas: Governance for Sustainable Development, Biodiversity & Society, Water & Resource Management, and Innovation & Education.