2021•07•28 Online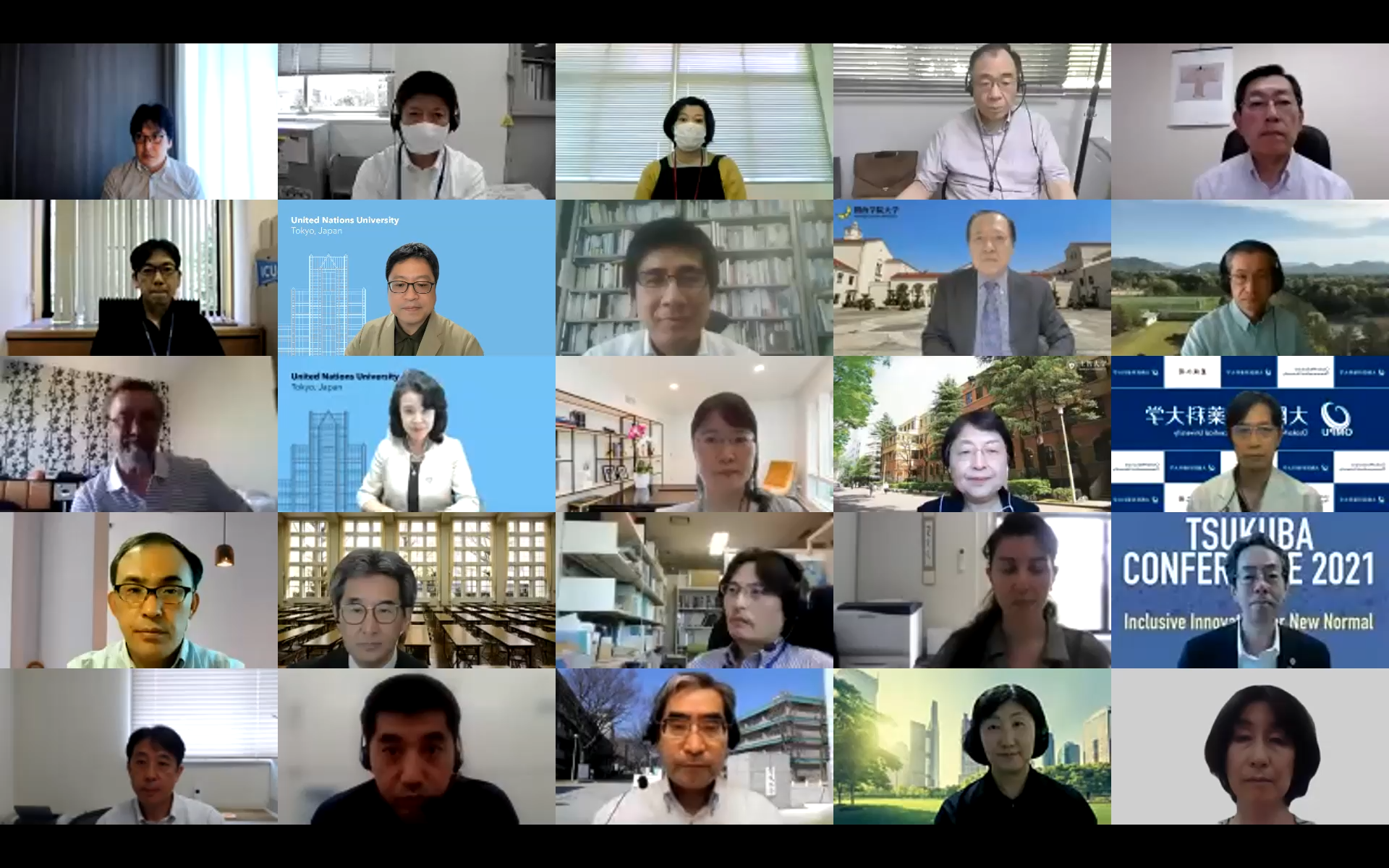 UNU-IAS organised the ninth workshop of the UNU SDG–Universities Platform (SDG–UP) on 28 July 2021, through videoconferencing. Fifty-eight participants from 21 universities were discussed specific themes in four working groups.
Shinobu Yume Yamaguchi (Chair of SDG–UP; Director, UNU-IAS) reported that UNU-IAS had co-hosted a Special Event of the UN High Level Political Forum on Sustainable Development (HLPF) focused on the Sustainability Initiative in Higher Education in early July, and explained the activities of the SDG–UP in this international forum. She emphasised that the fiscal year 2021, the second year of the SDG–UP, would be a very important year to realise the recommendations made in March.
The following is a summary of the discussions in each working group meeting.
Working Group on SDGs Curriculum
The curriculum created by SDG-UP will include internationalism, interdisciplinarity, action research and active learning to motivate students to take courses. It will also include a cross-country, cross-university, cross-disciplinary approach that will allow students to interact with overseas sites. As a pilot project for next year, an online-based syllabus will be created for general education courses for first- and second-year students.
Working Group on University Evaluation and Accountability
The following three points were confirmed: (i) to read and understand the impact ranking indicators in a way that contributes to the improvement of each university's efforts, (ii) to share good practices of each university and utilise them in future outputs, and (iii) to sustain active information collection and dissemination. Each session will introduce good practices from participating universities and analyze the impact ranking. Through questionnaire surveys, information will be provided to the Times Higher Education Advisory Board, and analysis results disseminated, and information shared from the board.
Working Group on University Collaboration
A roadmap for the period up to March 2022 will be prepared. In the first meeting, ideas for university collaboration will be shared through presentations by each participating university. In preparation for the second meeting, common points (Common Mission) of each university's activities will be identified and a draft action plan will be created. Then, the possibility of collaboration from the four perspectives of education, research, management, and regional cooperation (with local governments and companies) will be explored.
Working Group on Management
In considering how universities can contribute to society through the achievement of the SDGs, an ideal vision for university management was discussed. At the next meeting, companies that are making progress in their sustainability initiatives will be invited. Those companies will be expected to talk about their governance and management approaches to creating a mechanism to move the entire organization forward.
Shunichi Murata (SDG–UP Advisor & Professor, School of Policy Studies, Kwansei Gakuin University) highlighted that the workshop, now in its ninth session, had produced concrete outputs through the collaboration of the participating universities and good cooperation and collaboration through the commitment of each working group. He reiterated his expectations for this new initiative focused on inter-university collaboration.
Shinobu Yume Yamaguchi concluded the workshop by emphasising that many concrete ideas had emerged from the discussions of the working groups. She emphasised the need to further improve the organisation and encourage more active discussion to achieve the desired results.
A detailed report is available in Japanese.
21 participating universities (in alphabetical order)
Ehime University
Hiroshima University
Hokkaido University
International Christian University
International University of Japan
Kanazawa University
Kwanseigakuin University
Kitakyushu City University
Kyushu University
Kyushu Sangyo University
Notre Dame Seishin University
Ochanomizu University
Osaka University
Osaka Medical and Pharmaceutical University
Ryukoku University
Sophia University
Tokai University
Tokyo City University
Tokyo Institute of Technology
Toyo University
Tsukuba University