2020•10•15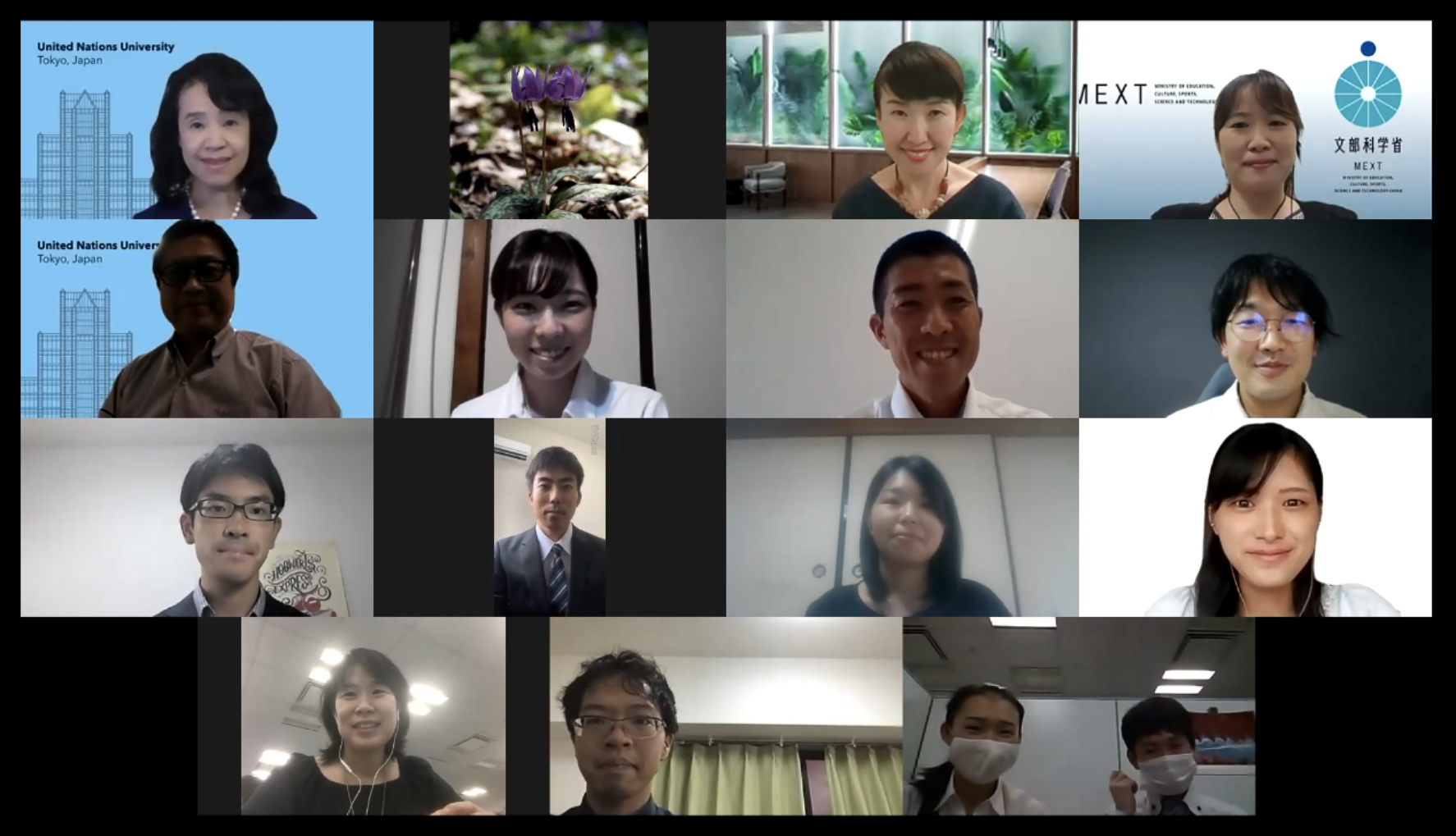 On 4 September 2020, UNU-IAS hosted a final reporting webinar session on the  Global Leadership Training Programme in Africa (GLTP), providing an opportunity for the students who participated in the previous year to share their fieldwork results with students newly selected for the programme. GLTP is a practical training initiative, supported by the Ministry of Education, Culture, Sports, Science and Technology of Japan (MEXT), which provides Japanese postgraduate students with opportunities to implement their fieldwork at partner institutions in Africa.
In 2019, nine Japanese postgraduate students were selected and conducted field research under the supervision of five host universities and institutes in five African countries (Kenya, Zambia, Uganda, South Africa, and Malawi) for two to six months. Their research themes are diverse including analysis on the relevance of Technical and Vocational Education and Training (TVET) to labor market needs, the roles of School Management Committees and PTAs on the quality of primary education in Uganda, and the development of an underground mining Monitoring System using WiFi in South Africa.
In this reporting session, seven trainees presented their research outcomes and experiences with the public and the growing GLTP alumni network.
Field reports from the 2019 students are available below:
Doctoral Students
Mr. Yujiro YAMAZAKI (Nagoya University)
The Process of Skills Formation and the Structure of Informal Sector: The case of informal metalwork in Katwe area, Kampala, Uganda
Ms. Yoshie HAMA (Hiroshima University)
A Systematic Review and Meta-Analysis of Effective Teaching Approaches for Improving Students' Academic Performance in Literacy in Sub-Saharan Africa
Master's Students
Mr. Hajime IKEDA (Akita University)
Development of an Underground Monitoring System for Improving Safety and Efficiency of Using Wi-Fi Ad Hoc Technology in Southern African Countries
Ms. Misaki SATO (University of Tsukuba)
The Circumstances Around Female Teachers, their Perception and Practice of Girls' Education: A Case of Secondary School Teachers in Malawi
Ms. Ayano KAYAHARA (Kobe University)
Relevance of TVET to Labor Market in Uganda: Focused on Technical and Vocational Institutions
Mr. Takumi KOBAYASHI (Kobe University)
Examining the Roles of School Management Committees and Parent Teacher Associations on How They Influence the Level of Parental Involvement in Ugandan Primary Education
Mr. Ryuji YOSHINO (Nagasaki University)
Current situation of social welfare and living condition of older persons in Kenya
Ms. Sakiho YAMAZAKI (Nagasaki University)
Perception of Teenage Pregnancy and Family Planning Among Adolescents