2017•12•20 Tokyo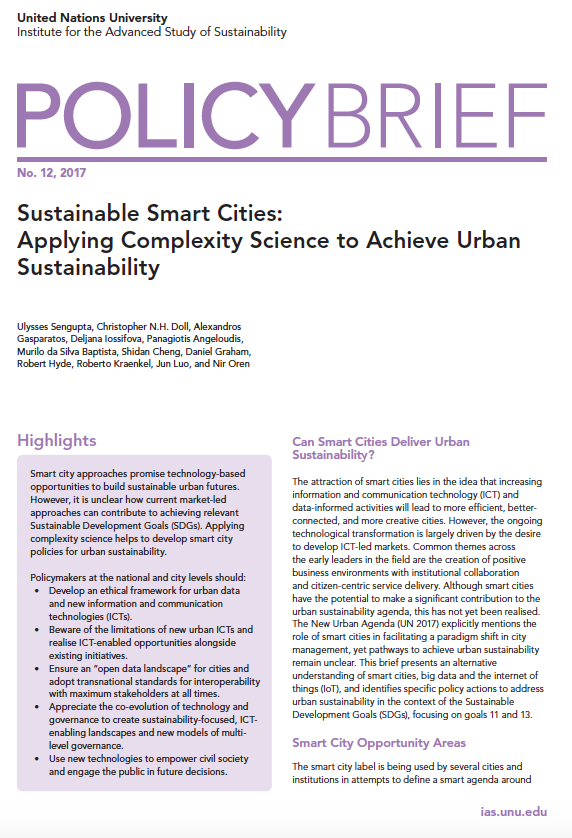 A new UNU-IAS Policy Brief argues that governance guided by science, rather than led by market forces, is the way forward in building sustainable urban futures. Sustainable Smart Cities: Applying Complexity Science to Achieve Urban Sustainability was co-authored by former UNU-IAS researcher Christopher Doll, and is a joint output of UNU-IAS and the ESRC Strategic Network Data and Cities as Complex Adaptive Systems (DACAS). The brief describes the evolving technology of smart cities as providing opportunity for re-imagining civic engagement and strengthening societal networks.
Highlights
Policymakers at the national and city levels should:
Develop an ethical framework for urban data and new information and communication technologies (ICTs).
Beware of the limitations of new urban ICTs and realise ICT-enabled opportunities alongside existing initiatives.
Ensure an "open data landscape" for cities and adopt transnational standards for interoperability with maximum stakeholders at all times.
Appreciate the co-evolution of technology and governance to create sustainability-focused, ICT-enabling landscapes and new models of multi-level governance.
Use new technologies to empower civil society and engage the public in future decisions.