2018•08•15 Tokyo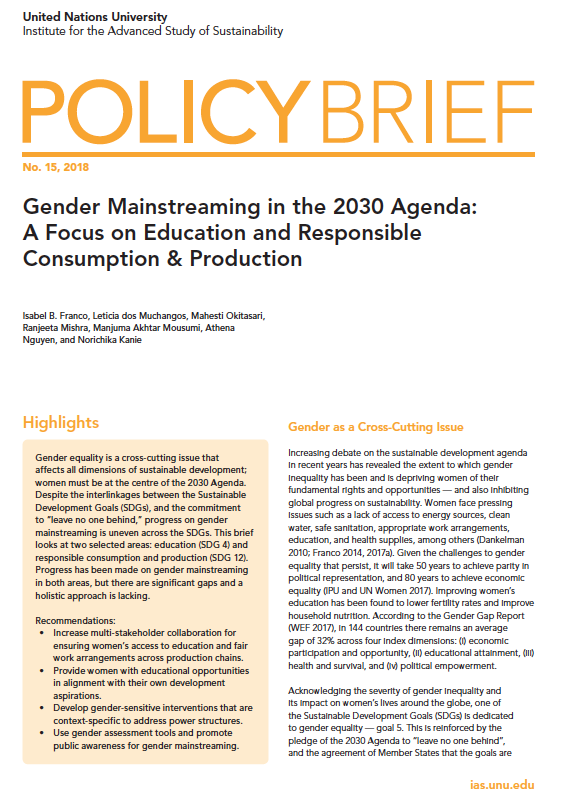 A new UNU-IAS Policy Brief explores the gender mainstreaming needed to achieve the Sustainable Development Goals, with a specific emphasis on education (SDG 4) and responsible consumption and production (SDG 12). Gender Mainstreaming in the 2030 Agenda: A Focus on Education and Responsible Consumption & Production was co-authored by UNU-IAS researchers Isabel Franco, Leticia dos Muchangos, Mahesti Okitasari, Ranjeeta Mishra, and Norichika Kanie, along with three external collaborators. It delves into the differing yet intersecting challenges across the SDGs to realizing SDG 5 (gender equality) and offers guidance on a way forward.
Highlights
Gender equality is a cross-cutting issue that affects all dimensions of sustainable development; women must be at the centre of the 2030 Agenda. Despite the interlinkages between the Sustainable Development Goals (SDGs), and the commitment to "leave no one behind," progress on gender mainstreaming is uneven across the SDGs. This brief looks at two selected areas: education (SDG 4) and responsible consumption and production (SDG 12). Progress has been made on gender mainstreaming in both areas, but there are significant gaps and a holistic approach is lacking.
Recommendations:
Increase multi-stakeholder collaboration for ensuring women's access to education and fair work arrangements across production chains.
Provide women with educational opportunities in alignment with their own development aspirations.
Develop gender-sensitive interventions that are context-specific to address power structures.
Use gender assessment tools and promote public awareness for gender mainstreaming.