2018•09•10 Tokyo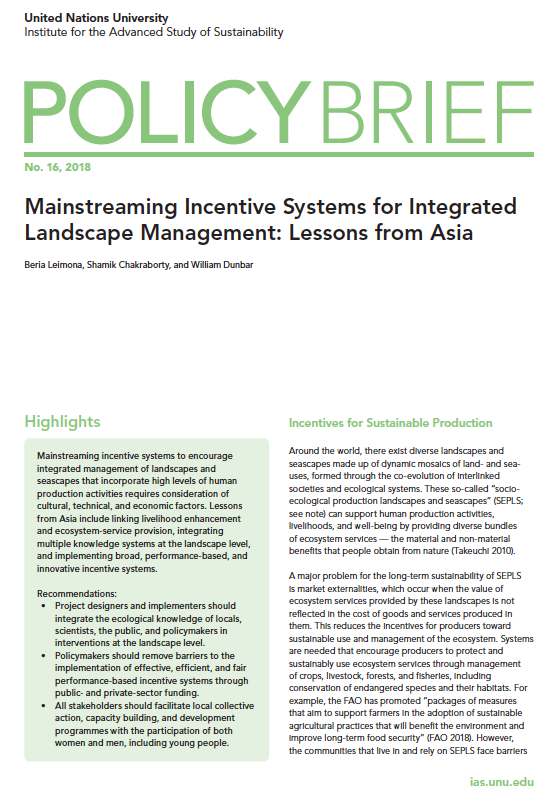 A new UNU-IAS Policy Brief outlines recommendations to encourage sustainable production activities and sustainable management of ecosystems. Mainstreaming Incentive Systems for Integrated Landscape Management: Lessons from Asia was co-authored by Beria Leimona, Shamik Chakraborty, and William Dunbar. It utilizes case studies from Asia to provide insights that can be applied globally towards the design, implementation, and mainstreaming of incentive schemes in support of both human livelihoods and conservation of the natural environment.
Highlights
Mainstreaming incentive systems to encourage integrated management of landscapes and seascapes that incorporate high levels of human production activities requires consideration of cultural, technical, and economic factors. Lessons from Asia include linking livelihood enhancement and ecosystem-service provision, integrating multiple knowledge systems at the landscape level, and implementing broad, performance-based, and innovative incentive systems.
Recommendations:
Project designers and implementers should integrate the ecological knowledge of locals, scientists, the public, and policymakers in interventions at the landscape level.
Policymakers should remove barriers to the implementation of effective, efficient, and fair performance-based incentive systems through public- and private-sector funding.
All stakeholders should facilitate local collective action, capacity building, and development programmes with the participation of both women and men, including young people.