2019•02•15 Tokyo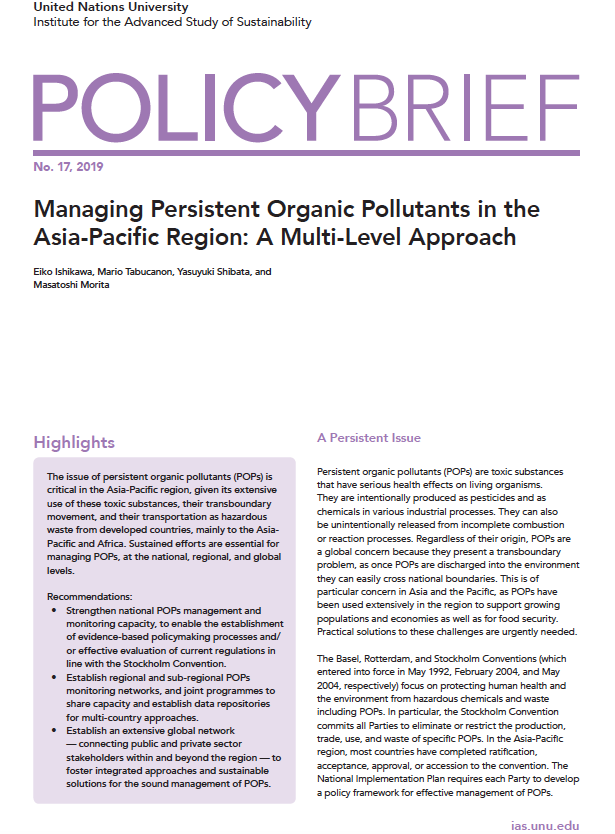 A new UNU-IAS Policy Brief examines the current challenges facing the Asia and Pacific region with regard to persistent organic pollutants (POPs), toxic substances that easily cross national boundaries and are a hazard to human health. In Managing Persistent Organic Pollutants in the Asia-Pacific Region: A Multi-Level Approach, co-authors Eiko Ishikawa, Mario Tabucanon, Yasuyuki Shibata, and Masatoshi Morita provide recommendations on how to improve POPs management and monitoring at both local and international levels.
Highlights
The issue of persistent organic pollutants (POPs) is critical in the Asia-Pacific region, given its extensive use of these toxic substances, their transboundary movement, and their transportation as hazardous waste from developed countries, mainly to the Asia-Pacific and Africa. Sustained efforts are essential for managing POPs, at the national, regional, and global levels.
Recommendations:
•Strengthen national POPs management and monitoring capacity, to enable the establishment of evidence-based policymaking processes and/or effective evaluation of current regulations in line with the Stockholm Convention.
•Establish regional and sub-regional POPs monitoring networks, and joint programmes to share capacity and establish data repositories for multi-country approaches.
•Establish an extensive global network — connecting public and private sector stakeholders within and beyond the region — to foster integrated approaches and sustainable solutions for the sound management of POPs.